AMD Ryzen 10 3970X: 24C/48T at 5.5GHz teased
AMD's next-gen Ryzen 10 3970X could be 106% faster than 1950X, with 24C/48T at up to 5.5GHz.

Published Sun, Dec 10 2017 7:24 PM CST
|
Updated Tue, Nov 3 2020 11:53 AM CST
The news of AMD's next-gen Ryzen 2 processors has the internet in a tailspin, with a tease of the new Ryzen 7 2800X with 12C/24T at a blistering 5.1GHz blowing everyone away. It is being claimed a fake, and while it probably is, we're still going to report it to just talk about it.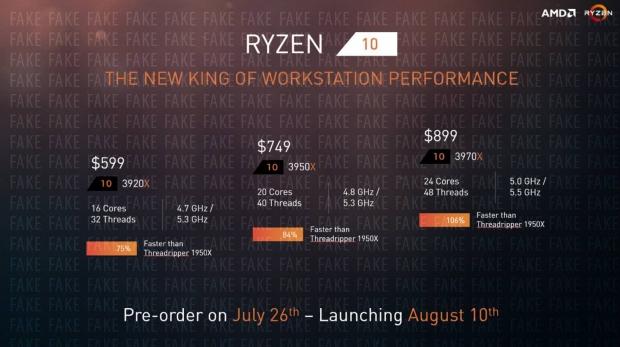 But there is another fake slide that teases the purported Ryzen 10 range of CPUs that would succeed the Ryzen Threadripper range, starting with the Ryzen 10 3920X for $599. From there, we have the Ryzen 10 3950X at $749 and the flagship Ryzen 10 3970X for $899.
AMD's purported Ryzen 10 3920X packs 16C/32T of CPU power at 4.7/5.3GHz for base and boost, respectively, while the Ryzen 10 3950X packs 20C/40T with 4.8/5.3GHz and is 84% faster than the Threadripper 1950X. The flagship Ryzen 10 3970X packs an insane 24C/48T of CPU power at a huge 5.0/5.5GHz and is a whopping 106% faster than Threadripper 1950X.
Again, this is said to be fake and all, but I wonder if it's guerrilla marketing from AMD that is meant to act as a cold stake into the heart of Intel. Remember, RTG boss Raja Koduri has defected and switched over to AMD's main competitor leaving the Radeon team blowing in the wind.
These new fantasy Ryzen 10 processors would be announced in July, and launched on August 10 - in this new dimension, of course.
Related Tags