Interview and Product Tour With Lian Li's Jameson Chen
Lian Li's Jameson Chen is about to take over from his father, the founder of the company, and we had a chat to him during Computex earlier this month.
Published Thu, Jun 22 2017 9:11 PM CDT
|
Updated Tue, Nov 3 2020 11:55 AM CST
For over 30 years, Lian Li has been a staple in the computer hardware industry as a supplier of premium PC chassis. During Computex 2017, we had the opportunity to interview Jameson Chen, who is destined to take the reins from his father and lead the company into a new era.
Lian Li chassis have always embodied quality materials and craftsmanship, and their future plans are going to stay on that path while also offering a bit more variety. Instead of extremely expensive brushed aluminum chassis, Jameson has a vision for well-built cases constructed with steel, with integrated RGBs, and tempered glass. He wants to focus on the needs of gamers as well as premium builders.
The new Alpha 330 and Alpha 550 help to usher in Jameson's vision for a more gamer-friendly company, and do so at attractive price points of up to $99 for the Alpha 330 and up to $175 for the Alpha 550. Both offer tempered glass side paneling, USB 3.1 type-C front ports, and a well-built steel chassis. The Alpha 550 offers an RGB controller along with Lian Li's new RGB fans.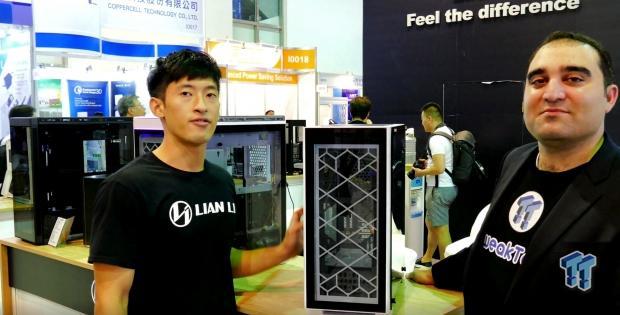 If you are a fan of Lian Li's more premium products, the company will still be delivering its traditional brushed aluminum cases, and Jameson teased us with the PC-Q38. The Q38 will support mini-ITX motherboards and offers flexibility when it comes to the use of ATX of SFX PSUs, albeit you will be limited in radiator support size with an ATX PSU.
Please Note: This is sponsored content and its contents may or may not represent the thoughts or opinions of TweakTown or its editors.
Related Tags