Blizzard and Twitch today signed an agreement that's set to earn massive engagement and spectatorship for Blizzard's billion-dollar franchises like Overwatch.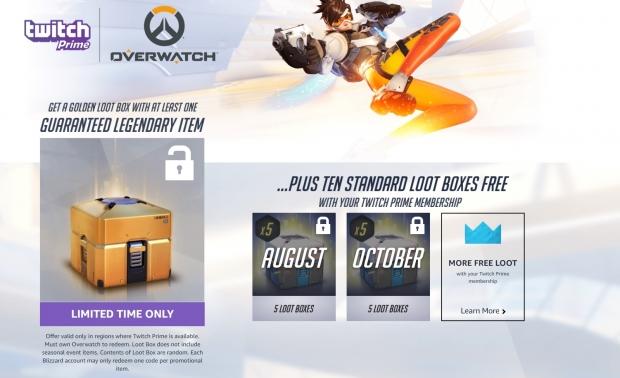 Twitch today announced that it has partnered with Blizzard in a two-year deal to stream more than 20 major eSports events based around Blizzard IPs, including the Overwatch APEX League and the Hearthstone Championship Tour. Twitch will have third-party rights to stream key Blizzard eSports events through 2018 that range across the company's games catalog including Hearthstone, Heroes of the Storm, World of Warcraft, StarCraft II, and Overwatch.
Perhaps the most impressive part of the deal is how Twitch Prime subscribers in over 200 countries and territories will receive free loot for Overwatch, Hearthstone, and Heroes of Storm. Blizzard will give away a premium Overwatch golden lootbox to all Twitch Prime subscribers from now until August 10. A total of 10 more Overwatch lootboxes will be given out across August and October, and in-game rewards for Hearthstone and Heroes of the Storm will continue flowing to Twitch Prime subscribers in the coming months.
Essentially this is an incredibly smart move on both party's behalf. Since Twitch Prime is free with Amazon Prime, this partnership has a multiple benefits that naturally pull more viewers and shoppers into the ecosystem. Blizzard handing out free loot to players is a great way to reward existing gamers and attract new ones. eSports spectatorship is proven to be a major engagement builder that organically feeds any video game community, however since Blizzard is handing out the content free regardless of viewership, that gives everyday non-eSports fans to get pulled into Blizzard's IP as well.
I can say that this partnership is extremely strategic and tactical, and I personally think we'll see lots more deals like this inked with other major publishers in the near future.
The 2-year Blizzard-Twitch partnership extends--but is not limited to--the following eSports events:
Heroes of the Storm Global Championship (HGC)

StarCraft II World Championship Series (WCS Circuit)

Hearthstone Championship Tour (HCT)

Hearthstone Global Games (HGG)

World of Warcraft Arena Championship

Overwatch APEX League

Overwatch Premier Series
"We founded Twitch as a gaming platform heavily based on our community's reaction to games like Blizzard's StarCraft II," said Kevin Lin, COO, Twitch.
"Since then, our large, but tight-knit community, our constantly evolving suite of interactive features, and a native emote-driven chat language celebrated by viewers enable us to support and grow Blizzard esports in a manner that best serves our collective fans. This includes providing Blizzard fans with exclusive in-game content for those who subscribe to Twitch Prime, another defining and cherished component of our brand."
"We've had great experiences and a long history of working with Twitch, and we're thrilled that this landmark agreement with them will help us bring some of the most exciting esports action in the world to Twitch fans and everyone who follows Blizzard esports," said Frank Pearce, chief product officer and co-founder of Blizzard Entertainment.
"Our esports communities are vital to us. We know there are millions of people out there who love Blizzard esports as much as we do, and we're committed to making sure they'll be able to cheer on their favorite players in all of their favorite Blizzard games for a long time to come."