Diablo III Rise of the Necromancer is $15, drops in June
Blizzard finally drops a release date for its new Necromancer-themed expansion.

Published Tue, Jun 20 2017 10:20 AM CDT
|
Updated Tue, Nov 3 2020 11:55 AM CST
Blizzard's new Rise of the Necromancer expansion for Diablo III will release this month on Xbox One, PS4 and PC.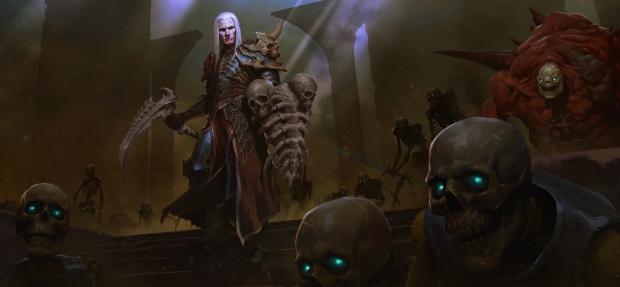 Blizzard today announced that it's latest (and possibly last) paid expansion for Diablo III, Rise of the Necromancer, will launch on June 27 for all major platforms. The Necro DLC costs $15 and includes the new playable Necromancer class and other content including:
The twisted and misshapen Half-formed Golem in-game pet

Cosmetic Wings of the Crypt Guardian

Two additional character slots

Two stash tabs (PC only)

Necromancer portrait, banner, sigil, and accent, and Blood Master pennant
"While players often ask us to bring back their favorite characters from our classic games, few classes have been requested as often, or as passionately, as the necromancer," said Mike Morhaime, CEO and cofounder of Blizzard Entertainment.
"Reimagining the necromancer was a labor of love-we worked hard to capture the essence of what made the class so iconic, while taking advantage of everything Diablo III has to offer."
For an in-depth look at the Necromancer's skills and abilities, be sure to check out our write-up here.
"Necromancers, as the mysterious Priests of Rathma are commonly known, made their series debut in the critically acclaimed Diablo II, where millions of players experienced the thrill of controlling unstoppable armies of undead minions. In Diablo III: Reaper of Souls, these talented men and women draw upon the power of blood and bone to protect humanity, transforming the lifeless carcasses of their slain enemies into undying servants-or just blowing them up, because that's fun, too."
Diablo III: Rise of the Necromancer is digital-only and requires users to have the Reaper of Souls expansion installed alongside the base Diablo III game, or the Diablo III: Ultimate Evil edition. The expansion will release on June 27, 2017 for $14.99 on the PlayStation Store, Xbox LIVE, and Battle.net.
Related Tags