GTA V PC playerbase still healthy amid mod controversy
GTA V's peak player count on Steam is actually doing well after Take-Two kills OpenIV mod.
Published Jun 20, 2017 9:20 AM CDT
|
Updated Tue, Nov 3 2020 11:55 AM CST
2 minutes & 35 seconds read time
Take-Two Interactive has earned the ire of Grand Theft Auto gamers across the globe, but PC players are still playing GTA V. In fact, more PC owners are playing GTA V on Steam this month than the last three months. For instance, the Steam GTA V playerbase has jumped 107% from May to June.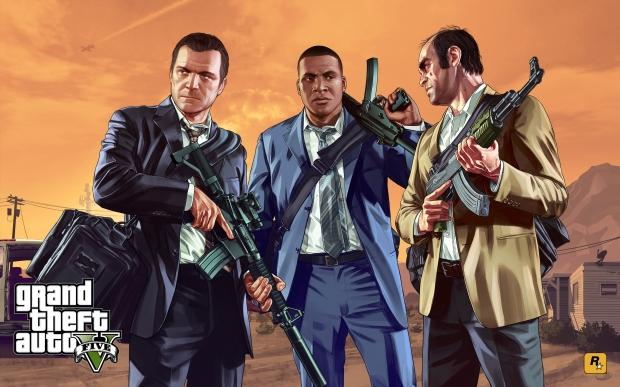 Five days ago Rockstar Games parent company Take-Two Interactive shut down prominent GTA PC mod OpenIV, and the community has responded with revolt.
The mod itself was used by countless PC gamers to mod their GTA IV and GTA V games for offline play for years and years now, but in an official statement Rockstar says OpenIV has been linked to "malicious mods that allow the harassment of players and interfere with the GTA Online experience for everybody."
However the developer of OpenIV insists that it's impossible for anyone to connect to GTA Online while using the mod, and naturally the community sees this move as a war on mods so that gamers are pushed towards playing GTA Online and spending money.
The GTA PC gaming community, which is responsible for a massive array of video content that builds engagement and brand awareness all across the world, has collectively revolted against Take-Two and Rockstar Games in specific ways. Grand Theft Auto V's Steam reviews have taken a massive hit and its recent ratings are now Overwhelmingly Negative, and its Overall rating went from "Positive" to "Mixed". The same has happened to Grand Theft Auto IV's steam page. A petition for the reinstatement of OpenIV has reached almost 60,000 signatures so far.
Despite this frustration and outrage, the bulk of PC gamers appear to be playing the game and GTA V's Steam userbase is pretty healthy.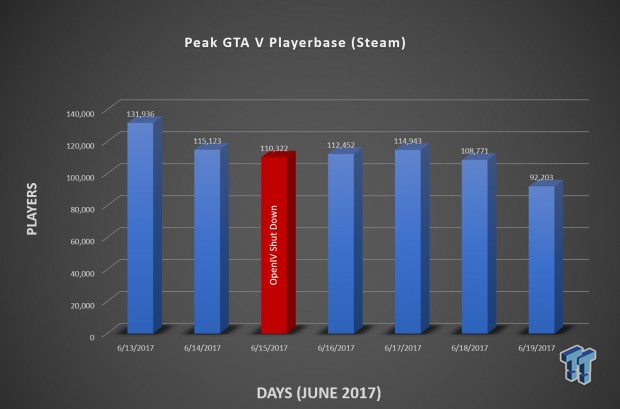 According to info gleaned from SteamCharts, Grand Theft Auto V's peak playerbase on Steam has become more erratic since OpenIV's cancellation, but the numbers aren't bad at all.
In fact, GTA V on PC just recently hit 131,936 users, the game's highest concurrent user peak for over two years, since May 2015's 215,966 concurrent users. On June 15 GTA V had 110,322 players on Steam, compared to 53,194 players on May 15, representing a surprising 107% month-by-month increase.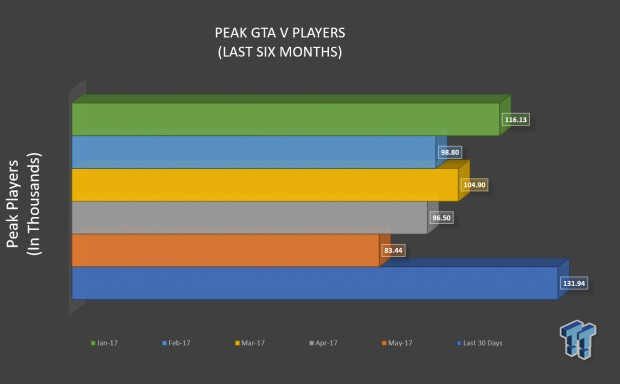 Oddly enough, just a day after OpenIV's cancellation, GTA V's userbase actually increased by 1.9% over the previous day's concurrent users to 112,452. However, four days of news circulation may have had an affect on the playerbase to cause a 15% drop in day-to-day users on June 19, dropping the concurrent userbase to 92,203 players. At the time of writing the player count is already up to 90,322, showing that GTA V's DAU count hasn't been too negatively affected by the mod closures.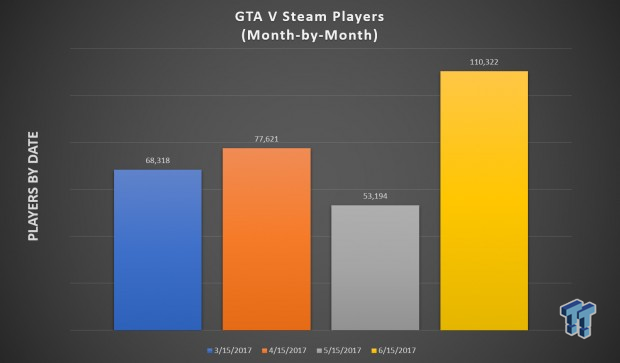 It'll be interesting to see how this changes over time, and we'll be sure to keep an eye on the figures as the month closes for a better picture. If gamers truly want to revolt against a publisher then it'd behoove them to orchestrate a kind of mass boycott of sorts...but that'd be hard with a massive property like Grand Theft Auto.
Related Tags