Fallout 4 VR launches this year, includes full game
Fallout 4 VR might be the killer app virtual reality needs, and it's releasing this year.

Published Tue, Jun 13 2017 8:11 AM CDT
|
Updated Tue, Nov 3 2020 11:55 AM CST
E3 2017 - High-end PC-powered Virtual Reality might be getting its killer app this year with Fallout 4.
Bethesda has announced that Fallout 4 VR will launch in October exclusively on the HTC Vive. Unlike most VR games, Fallout 4 VR isn't just a little slice of content locked in a closed-in environment, but the actual full retail game built to be 100% compatible with VR. Vive owners will be able to explore Boston's full post-apocalyptic Commonwealth, from the Glowing Sea to the Kingsport Lighthouse and everything in between. The entire game has been re-tooled for VR, including a new innovative combat system with VATS to bring even more immersion.
Just don't expect mods to show up any time soon.
"Fallout 4 VR isn't just a jaunt through the Wasteland, it's the entire game. The whole world is fully explorable. That includes hundreds of locations, characters and quests. This is your opportunity to step into the Wasteland and experience Fallout 4 in a whole new way," Bethesda said in a recent press release.
"With the power of VR, you'll be able to get up-close-and-personal with the dangers of a post-apocalyptic world as you fight for survival. Featuring new combat, crafting and building systems fully reimagined for VR - including VR-enhanced V.A.T.S."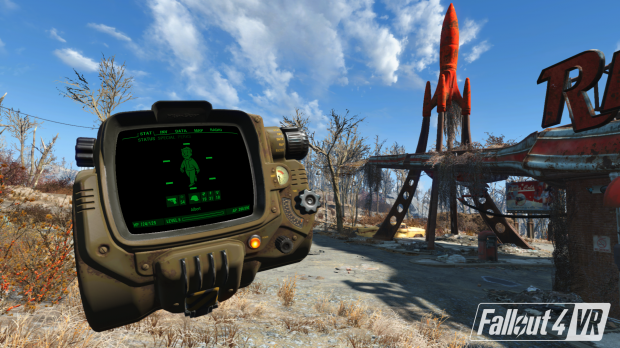 According to AMD, who's teamed up with Bethesda in a multi-year partnership to re-define the gaming world, Fallout 4 VR is an industry changer.
"[Fallout 4 VR] is a ground-breaking VR title. It will change the way we think about VR. It will be an industry changer," AMD corporate vice president Roy Taylor told MCVUK at this year's VR World Congress.
Fallout 4 VR launches in October on the HTC Vive.
Related Tags