Amsterdam 1666 will happen, Patrice Desilets promises
Assassin's Creed designer Patrice Desilets says his original devilish 17th century game will happen someday.

Published Mon, May 1 2017 12:15 PM CDT
|
Updated Tue, Nov 3 2020 11:55 AM CST
Ex-Ubisoft creative director and Assassin's Creed designer Patrice Desilets has always wanted to make an open-city game centered around the devil causing havoc in 17th century Netherlands. In a recent interview, the Canadian dev says his vision will come to light...some day.
"Eventually I will make 1666: Amsterdam," Patrice Desilets said in a recent interview with Gameology. A quick primer about Amsterdam: 1666: Desilets was making the rather interesting-looking game under THQ Montreal's label, but THQ went defunct and Ubisoft scooped up the Montreal studio and the IP. Desilets left Ubisoft and spent years wrestling with Ubisoft for control over the IP he had created, and eventually won the creative rights to it back in April 2016.
We had hopes that Desilets would one day make the game, and he hasn't forgotten about his original vision. He says that his smaller dev team, Panache, will make the game "eventually": "[Amsterdam 1666] is my game about the devil in us; we are all good guys, but sometimes we're not. But why are we evil sometimes? It's an international subject matter also, and in our culture the devil symbol is there so I want to attack that. Eventually we're going to make it here at Panache," Desilets said during the interview.
The ex-Assassin's Creed designer would also like to make a new sci-fi game. Hopefully Amsterdam 1666 gets made first!
" Eventually I'll make a real science fiction game I feel that would be stand-alone."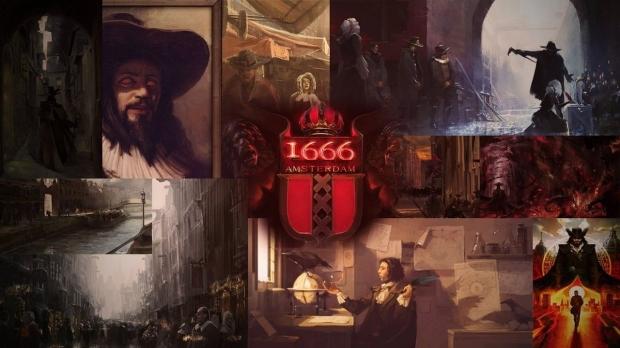 I'm rather mesmerized by Amsterdam: 1666, and I'd love to see an actual release sometime soon. Here's what I wrote about the game back in 2016:
"I'm beyond excited for this game, and I find something darkly enchanting about the whole idea of a malevolent devil traipsing around 17th century Amsterdam and causing all kinds of despair and destruction. Certainly the game would have its own narrative, and that would be even more mysterious and macabre."
Right now Desilets and his Panache studio are working on Ancestors: The Humankind Odyssey, an interesting game centered around the origins of homo sapiens. So it'll be quite some time before we ever see Amsterdam: 1666, but it's enough to know Desilets hasn't given up on the project.
"The player will relive the early story of mankind with a documentary twist. Humanity is one idea away from evolution or extinction...," reads the game's description.
Related Tags