The Switch's $70 Pro controller has a nifty USB Type-C port at the top that will make it much more future proof than other controllers. However, the device won't actually use the Type-C protocol to refill the Pro controller's internal 1300mAh battery--that's why it takes 6 hours to charge up.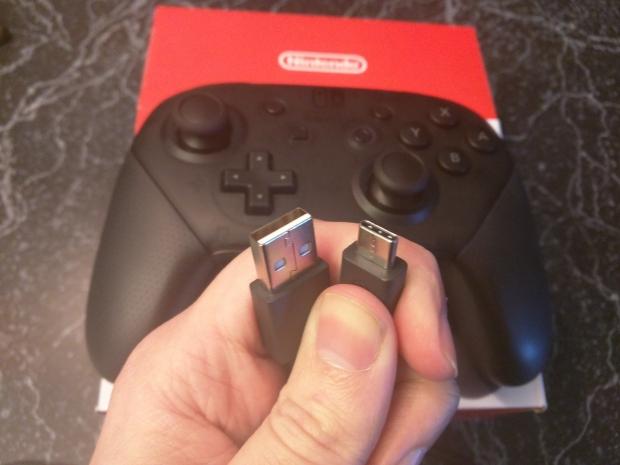 The Nintendo Switch Pro controller 's Type-C integration is apparently only for convenience, not faster recharges or data transfers--at least when you use the included cord. The Pro controller comes with a fairly common USB Type-C to Type-A recharging cord. What's interesting is that the Type-A end, which channels energy from the Switch dock to the controller, is actually USB 2.0. This means the Pro controller won't see faster recharges and the standard 5V 1.8A recharge rate should apply.
Now how do we know all this, especially since there's no markings on the Switch Pro USB cord other than the HAC-010 model number? I admit I wasn't able to find exact specs of this USB cord. However I did find a clue. Nintendo has confirmed the Switch dock's single USB 3.0 port will only be USB 2.0 until a firmware patch is rolled out: "USB terminal (side × 2 [USB 2.0 compatible], back side × 1 (USB 3.0)* It will operate with USB 2.0. We plan to support USB 3.0 in future updates," the Switch dock spec page confirms.
Since the HAC-010 cord's USB Type-A end plugs into the dock, and the dock doesn't yet have USB 3.0 functionality, we can assert this end uses USB 2.0 and not USB 3.0.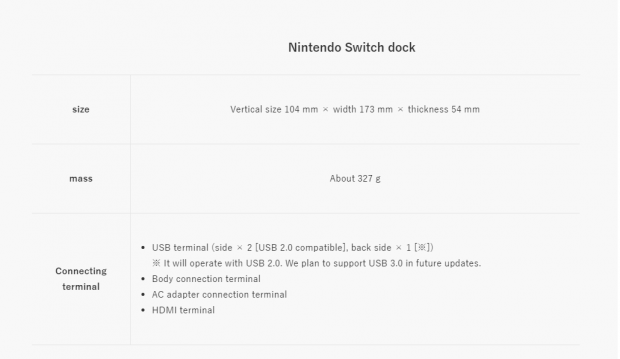 But what does this all mean?
To get the most out of USB Type-C including faster data transfers and speedier power transmission, you need a cord that has the plugs at both ends (USB Type-C to Type-C). As such, the HAC-010 cord will likely supply power to the Pro controller at or near the standard 5V 1.8A rate.
However there's just one problem: it takes six hours to refill the Pro controller's 1300mAh battery. That's a long time to recharge a battery of that size. This suggests the cord's charge rate may actually be less than the standard rate.
The Nintendo Switch AC adapter has two different charge rates: 5V at 1.5A and 15V at 2.6A. We postulate that the former is for recharging devices attached to the dock's USB port, like the Switch Pro controller.
The latter, of course, would be used to power the Nintendo Switch while it's docked for TV Mode play, supplying it a total of 39W of power to unlock the internal NVIDIA Tegra processor's GPU and achieve higher performance versus on-the-go play.
USB 2.0 also limits the data transfer rate to 480 Mbps, with USB 3.0 hitting 5 Gigabit-per-second transfer rates. Both USB 2.0 and USB 3.0 transfer 5V at 1.8A, but USB 3.1 (that is Type-C to Type-C or Type-C to Type-A) can hit blistering fast 20V at 5A max power outputs and blast 10 Gbps transfers.
Nintendo updating the Switch dock to support USB 3.0 might indicate external hard drive support at a later date.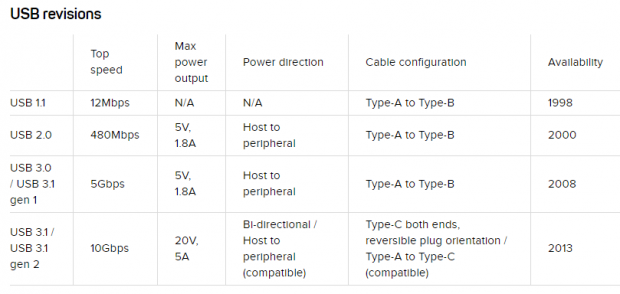 Surely there must be some advantages of the HAC-010 cord?
Sure there is. There's the convenience of being able to use Type-C's reversible cord hookups. Plus we can hook up the Switch Pro controller to portable power banks that use Type-A sockets and even phone charger AC adapters. Theoretically, at least: we don't know the exact charge rate of the Switch Pro controller just yet.
But honestly I'd like to know more and we'll be sure to contact Nintendo for a follow-up about this.
At the same time the Switch Pro controller has an amazing battery life of 40 hours. That's quite a stretch for a 1300mAh battery! For comparison's sake, Sony's DualShock 4 uses a 1,000 mAh battery and lasts about 3-4 hours. Of course the DualShock 4 has that annoying lightbar sucking away power, but it's clear Nintendo has something interesting under the Switch Pro controller's hood.
And we want to know what it is.
All of this was just a means of providing more perspective about the Nintendo Switch and the Pro controller. Be sure to keep an eye on your controller's battery life and top it off every now and then so you don't miss out on that Breath of the Wild action.
We'll have a ton of Nintendo Switch content coming on the weekend so keep a look out! Also be sure to check out our Zelda: Breath of the Wild livestream of Facebook--it'll be up as soon as I get my Switch in the mail.