To celebrate this week's release of 'Sausage Party' on Blu-ray and DVD, we have 15 Blu-rays to give away thanks to our friends at Universal Sony Home Entertainment.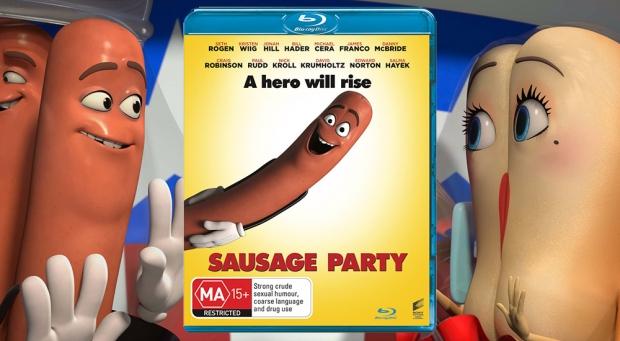 A hero will rise. A misplaced sausage (voice of Seth Rogen) and his food friends embark on an existential adventure through the aisles of a massive supermarket in this raunchy animated comedy. While they are initially excited by the prospect of a Fourth of July sale, the perishable pals are soon horrified when they learn the full truth about what happens after they are purchased. Kristen Wiig, Jonah Hill, Bill Hader, Michael Cera, James Franco, Danny McBride, Craig Robinson, Paul Rudd, Nick Kroll, David Krumholtz, Edward Norton, and Salma Hayek also lend their voices. Conrad Vernon (Monsters vs. Aliens) and Greg Tiernan directed from a script by Rogen, Evan Goldberg, Kyle Hunter, and Ariel Shaffir.
To go into the running to win a prize, simply answer the following question in 50 words or less:
What's the worst ingredient in a sausage you've ever heard of?
To enter, simply 'like' this post and share via Facebook or Twitter and send your answers, along with your postal address to ben at TweakTown dot com before the competition closes on November 18.
'Sausage Party' is available on 4K Blu-ray, Blu-ray, DVD and digital at leading Australian retailers from November 16.