Microsoft truly believes that major third-party publishers like EA, Activision and Ubisoft will embrace its cross-buy PC-and-console Play Anywhere initiative, despite these companies losing out on potential sales.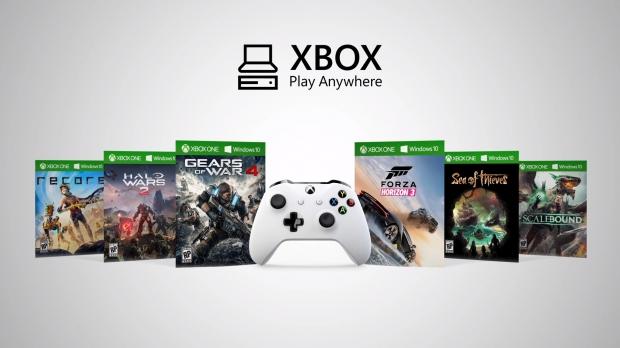 Xbox's Play Anywhere program is great for first-party games, and many gamers love the idea of buying a digital PC game and getting a free console port with their purchase. It's an effort to unify Windows 10 PCs and the Xbox brand, but not all publishers are likely to be keen on this idea, as companies typically hate the word "free," especially when it applies to something they can charge $60 for. In an interview with PC Authority, Xbox division manager Phil Spencer was recently asked if third-party publishers will ever adopt Play Anywhere, and here's what he said:
"I'd say some of the bigger traditional third party publishers, they want to see how [Play Anywhere] works out for us. There's always a fear that 'are you giving away two games for the price of one?' I'll say I think there are very few people that actually buy a game twice, once on PC, once on console."
Spencer might have a point, but publishers could lose out quite a bit of potential sales with that kind of thought process, especially given a lot of console gamers have converted to PC since Microsoft and Sony are already moving to new consoles just three years after the Xbox One and PS4 launches.
Read Also: Microsoft continues talking its way out of Xbox One sales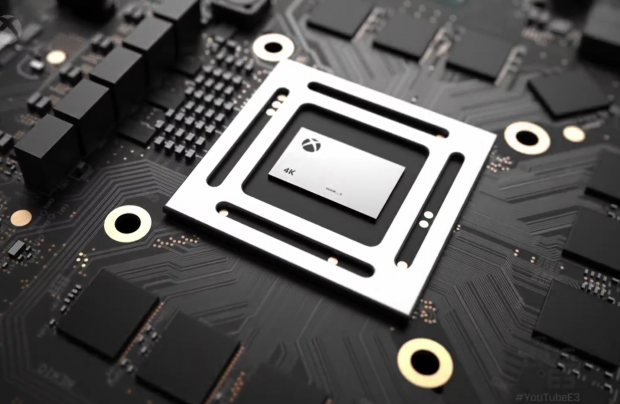 Microsoft's announcement of its new high-end 4K-ready "monster" Project Scorpio console makes existing Xbox One owners feel left out, and Sony is doing the same thing with its new 4K-ready PS4 Pro, which launches next month.
Even the Play Anywhere program caused a lot of flak from the loyal Xbox One gaming community, especially when Microsoft originally stated that all first-party Xbox One games would be coming to Windows 10 PCs via Play Anywhere, practically removing the need to even buy or own an Xbox One.
Redmond quietly revised that statement, saying that only select first-party games would make the jump to PC, and confirmed that the Xbox One would still have exclusives.
Spencer continues his argument by saying that Play Anywhere is great for the customer, and that it boosts player engagement.
Also remember that Microsoft is fine with Play Anywhere because they designed the unified Windows 10 to Xbox One framework. Of course they're okay with it--they control it completely, and giving away a free game doesn't hurt them as long as it boosts Windows 10 usage and engagement. But other companies don't like the idea of giving away something for free, especially a new triple-A game...and neither would their investors.
Read Also:Microsoft's plan to take over gaming might actually work
"So really what you're doing is you're just allowing the customer you already have to play your game more often. In today's world, engagement on games is more engagement on games is almost always a good thing, given multiplayer and the business models around those games.

But the ID community has given us a good reception for Xbox Play Anywhere, and I think the third party big publisher adoption will happen in time. I think it's really going to be up to gamers, do they find it a feature that they want, and how vocal are they about that? We're seeing early word from ReCore and Forza Horizon 3 that people are using the feature and finding it useful, which is great."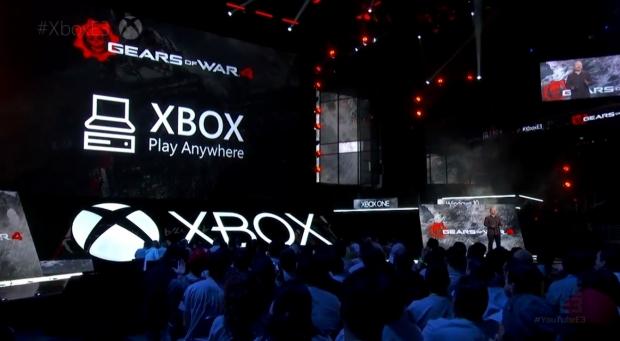 I still think Microsoft will have a hard time convincing publishers to adopt Play Anywhere without some kind of agreement or monetary incentive. The whole "two for the price of one" isn't something that any games-maker wants to hear or embrace, but if Microsoft makes it worth their while, they could have a change of heart.
Finally, Phil Spencer gives Xbox's definition of Play Anywhere, and how it redefines gaming as a whole by removing restrictions:
"With Play Anywhere, what we're really saying is we don't want your platform choice to dictate the games that you get to play, or where you buy your games. I'm sure you play a lot of games, I do as well! Now when a game comes out on PC and console, I have to make this kind of weird decision of where are my friends going to play?

"If they're going to play on PC then I'll go buy the PC version. If they're going to play on console, I'll go buy the console version. It's really an artificial structure, an artificial constraint in our world.

"Really what we should do, and this is what Play Anywhere is about is say 'hey, if you're going to buy gears of War 4, Forza Horizon 3, or ReCore, go buy the game that you want and we'll allow you to play it on Windows with your Windows friends, or on console with your console friends, and for a lot of our games, to play cross-platform with the games that we're building, really putting you as the gamer at the centre, and not the device that you picked."