Mafia III Deluxe Edition physical copies on the PC have been shipping from Amazon and Best Buy without their physical manuals, which have the activation codes for the game - leaving Mafia III owners in the dark. Mafia III has only just been updated with a frame rate unlock option, yet still requires an NVIDIA GeForce GTX 1080 to hit 60FPS at 1080p.
The physical version of Mafia III is delivered on six DVDs, and is meant to ship with a manual and activation code - but sorry, Deluxe Edition owners. Check out these comments on Amazon: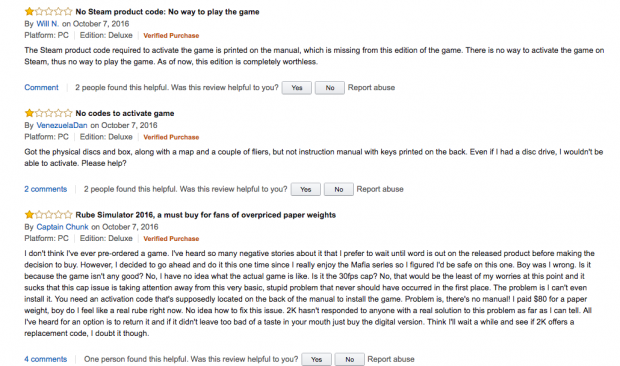 Some gamers are receiving refunds of their Mafia III Deluxe Edition copies from Amazon directly, while others are being instructed to fully return the game first before the refund will be offered. Best Buy customers are saying that they're being advised to take an exchange, or go to 2K directly about it.
This isn't leaving gamers happy, as some are stating getting information from 2K's customer service is hard, and they're asking over Twitter instead. One customer service account tweeted: "We've been seeing support response delays due to high launch traffic. Sorry for any frustration - we'll answer your ticket as soon as we can!"