PS4 Slim: 1.84 TFLOPs, HDD swapping, no 4K or HDR
Here's what to expect from Sony's new PlayStation 4 Slim hardware revision.

Published Thu, Aug 25 2016 9:10 AM CDT
|
Updated Tue, Nov 3 2020 11:58 AM CST
On September 7, Sony is expected to unveil a new thinner and cheaper PS4 model alongside the 4K-ready upgraded PS4 Neo. Now we have our first look at the new so-called "PS4 Slim" model.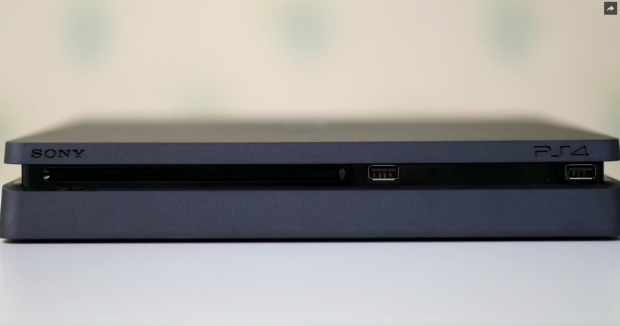 Since Sony's new PlayStation 4 Slim model and its accompanying DualShock 4 model have been confirmed as real, we can now start treating the leaked info from console owners as facts. Twitter user Shortman84 has a leaked PlayStation 4 Slim console and the new DualShock 4 controller (model CUH-ZCT2), and has revealed key information about the system and what to expect from the new PS4 hardware revision.
The owner reveals that the PS4 Slim features everything we'd expect in a new revision: it's thinner, runs cooler and quieter, and has a few features shaved off to lower the price despite retaining the basic functionality of current PS4 models. The new DualShock 4 controller has some nice surprises too, including more efficient battery life and a new mode that boosts response times. Check below for a full list of the info we've gleaned so far.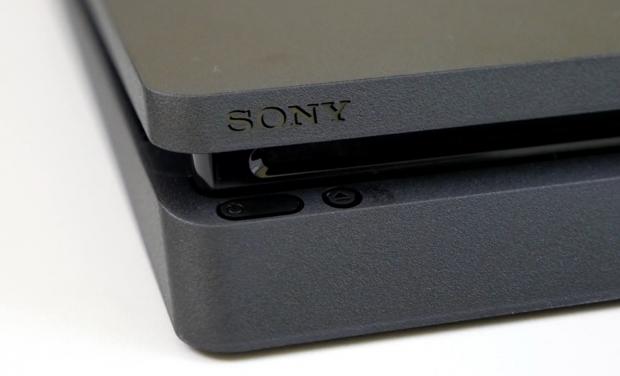 PlayStation 4 "Slim" Model
Comes in 500GB and 1TB SKUs - The PS4 Slim will come in the same flavors as the original PS4 in terms of hard drive space. (Source)
Isn't more powerful than original PS4 - The PS4 Slim is your basic console refresh, and is literally just a regular PS4 in a new case. The PS4 Slim rocks the same 1.84 TFLOPS as the original, and doesn't feature any major upgrades like Microsoft's Xbox One S' 16nm SoC shrink and overclocked GPU, so don't expect any significant performance improvements. (Source)
No 4K UHD Blu ray HDR support - As I said above, the PS4 Slim is literally just a normal PS4 in a smaller box, likely with some fan/thermal improvements. So that means now UHD 4K Blu ray support, and especially no 4K gaming (Sony is saving that for the Neo, and only in an upscaled form). (Source)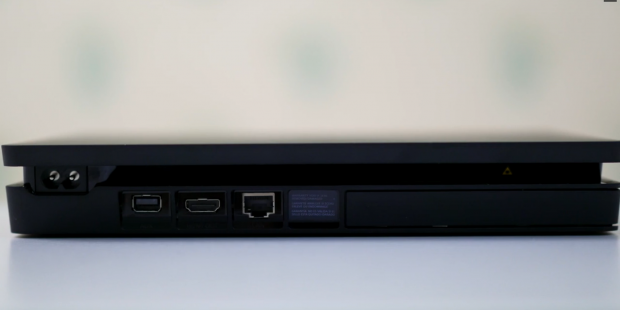 No Optical out port - The PS4 Slim has no optical out port for surround sound systems. This is one of the major features Sony shaved from the console in order to reduce manufacturing costs (Source)
Improved thermals and reduced noise - According to the owner, the new PS4 Slim was so quiet he could "hear a mouse fart" and is cooler than his existing PS4 model (Source)
HDD swapping still supported - Contrary to belief, Sony's new thinner PS4 Slim has a hard drive swap bay on the left side. Just pop off a plastic cover and unscrew the HDD to swap them out. The same 9.5mm 2.5-inch dimensions still apply. (Source)
Thinner and cheaper than original PS4 (possibly $280) - The PS4 Slim will be more friendly on the budget and shave off a bit from the console's asking price. We're still not sure what the price will be, but there's a big reason Sony is replacing all older PS4's with this new model: it's cheaper to make.
Supports old PS4 controllers - PS4 Slim is fully compatible with older DualShock 4 controllers, but the Direct Communication method that improves controller responsiveness times is only compatible with the new CUH-ZCT2 DualShock 4 controller. (Source)
Sony discontinuing original PS4 models, will only sell PS4 Slim after supply runs out - As the PS4 Slim is cheaper to manufacture, the new model will phase out existing PS4 models. (Source)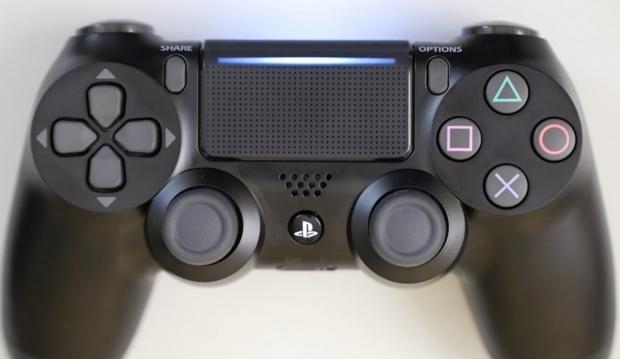 New DualShock 4 model (CUH-ZCT2)
Doesn't have two lightbars - The PS4 Slim's DualShock 4 has a slit above the touchpad where the original LED lightbar shines through. It's not a separate lightbar. (Source)
Longer lasting battery - The new DualShock 4 still has the same 1,000mAh battery capacity found in the original controller, but this one seems much more power efficient. For example, the user turned off vibration, sound and turned the lightbar LED on dim and the controller has lasted an incredible 8 hours and 20 minutes before dropping to the second bar.(Source)
Faster response times over USB - DualShock 4 input speed is enhanced when connected to console via USB thanks to PS4 Slim's new Direct Communication feature. (Source)
Headphone jack still supported - Still compatible with 3.5mm headphone jack (Source)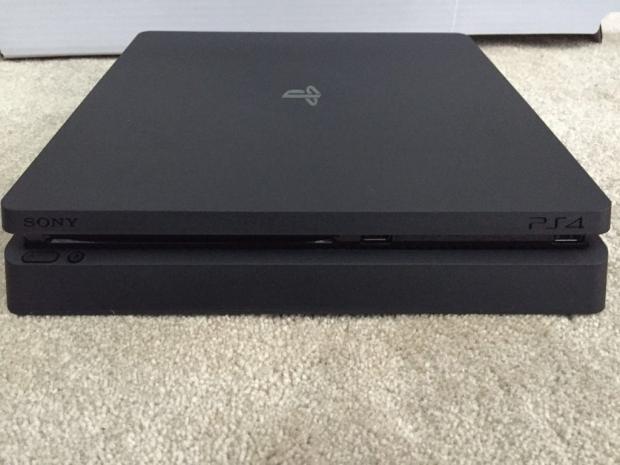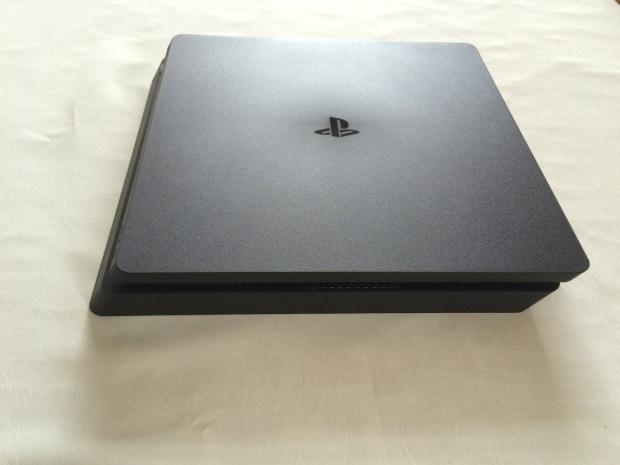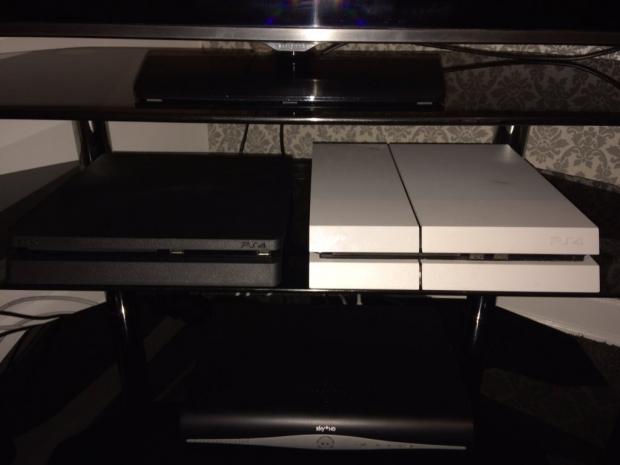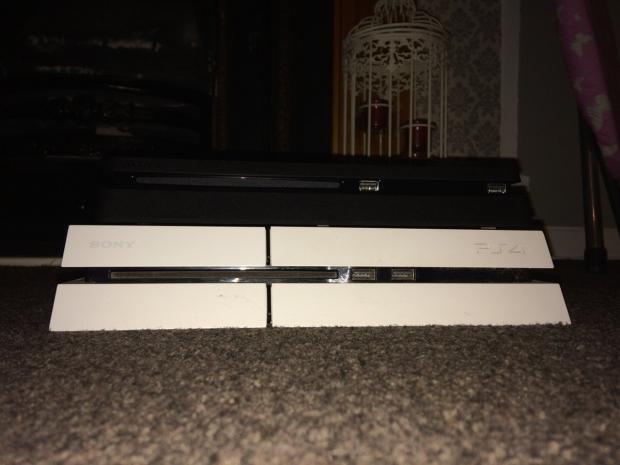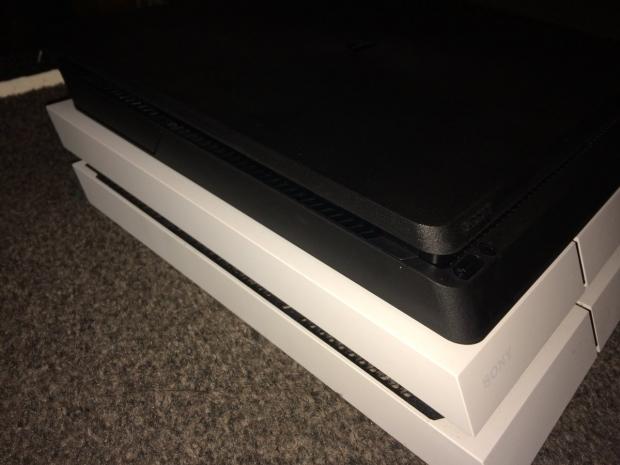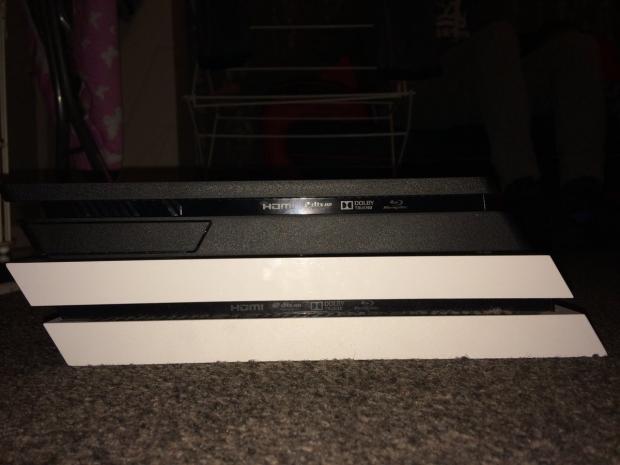 Related Tags