Xbox One S teardown reveals SATA III hard drive, 802.11ac, 6-pin PSU
A teardown of Microsoft's new slim Xbox One S reveals a non-replaceable SATA III hard drive, an 802.11ac wireless card, and more nifty features.

Published Wed, Aug 3 2016 11:05 AM CDT
|
Updated Tue, Nov 3 2020 11:59 AM CST
iFixit cleaves open the Xbox One S's small skin to reveal its inner guts, showing some decent hardware jumps over the original Xbox One.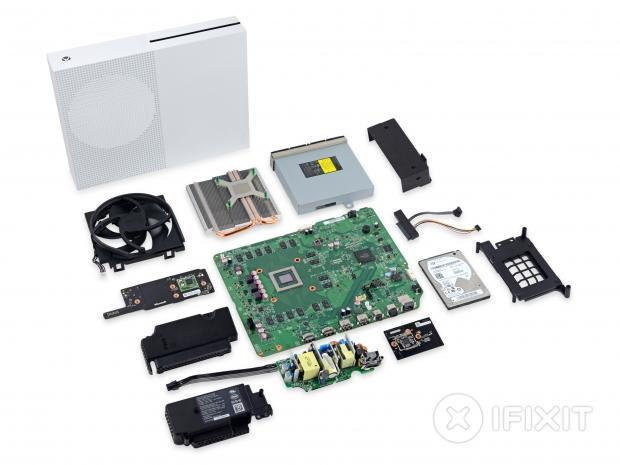 We already know that Microsoft's new $299 Xbox One S packs the same GPU/CPU hardware as the original Xbox One, only better: the S model's GPU has been overclocked to 914MHz (from XO's 853MHz) and is now housed on a new ultra-efficient 16nm FinFET SoC chip. But a new Xbox One S teardown from iFixit reveals some other interesting component upgrades that the Xbox slim offers, namely a SATA III 6.0 Gbps hard drive, a 802.11ac wireless chip, and HDMI 2.0a connectivity. Plus it's quite easy to repair!
Here are the particulars:
Same 8-core Jaguar SoC found on Xbox One

802.11ac wireless card

Philips DG-6M5S BD-ROM drive

Unique internal 6-pin power supply

Non-replaceable Seagate Spinpoint M9T ST2000LM003 2 TB 5400 RPM with 32 MB Cache SATA III 6.0 Gb/s hard drive

Xbox One S has 16nm FinFET SoC, GPU overclocked to 914MHz (from original's 853MHz)

120mm case fan

Easy to repair - 8/10 repairability score
"Once inside, a clean, no-nonsense modular design allows the drives, fan, heat sink, PSU, wireless board, and front daughterboard to be easily replaced."
As someone who's taken apart an Xbox One, I have to say that the Xbox One S is amazingly well-situated. The Xbox One is a nightmare to work on; once you pop off the shroud, you yank out the ribbon used to active the power button. What's more is the wireless card's wire is sloppily soldered to the front of the console; when I popped the casing off, I accidentally ripped the card's wire out, so I had to solder it back into place.
The Xbox One S, however, has its wireless card sitting in the front all neat and nice. It's also quite easy to replace, and there's no worry about yanking it out or having to solder anything in place.
Here's a few pics of the Xbox One S' 6-pin internal PSU, too:
To illustrate how the Xbox One S and the Xbox One literally use the same hardware adjusted into a different node, I've included a side-by-side slideshow that compares the two models.
Microsoft's Xbox One S is arguably the best-performing console revision in history, and packs a nice little punch over its predecessor.
Not only does the slim Xbox upscale games from 1080p to 4K, but it's technically capable of hitting native 4K gaming, albeit only for indie games and the like.
Plus it's overclocked GPU boosts in-game frame rates across certain Xbox One games, some of which see up to 11% FPS improvements. At $299, it's also the cheapest Ultra HD 4K Blu-ray player on the market.
Honestly, I don't think there's any reason to buy an Xbox One now. Even with the XO being cheaper, the Xbox One S is clearly advantageous in many ways--it's new SATA III drive enables faster gameplay and app startup, it has boosted frame rates, is quieter, more energy efficient, and it plays games and videos in 4K.
Even if you don't have a 4K TV yet, I'd still get the S if you want an Xbox, especially since you never know when you'll upgrade to 4K.
The 2TB Xbox One S model is now available in stores for $399, and the 1TB ($349) and 500GB ($299) Xbox One S models will be available on August 23. Microsoft is also offering an attractive Halo 5 Xbox One S bundle.
Related Tags