Siggraph 2016 - Walking through Siggraph 2016, there's something that caught my eye in a big way - Otoy had a 16K display on show, using 16 x 4K TVs, powered by AMD's new Radeon Pro graphics cards.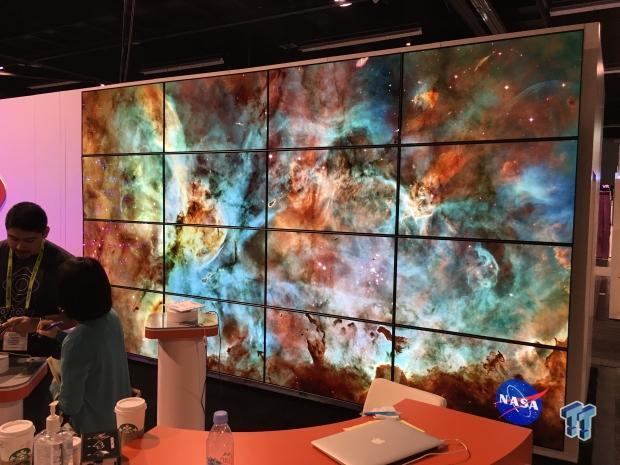 16K is pretty crazy, so let's clarify what we're talking about here:
1080p - 1920 x 1080 (2 megapixels)

4K - 3840 x 2160 (8.2 megapixels)

8K - 7680 x 4320 (33 megapixels)

16K - 15,360 x 8640 (132 megapixels)
It's virtually impossible to put into words what 16K looks like, but if you have seen a 4K TV or display before, 3840 x 2160 is made up of four times the pixels of a 1080p display. 16K, is made up of 16 of those 4K displays, which is made up of 32 x 1080p resolution. So, we're talking some mammoth numbers here.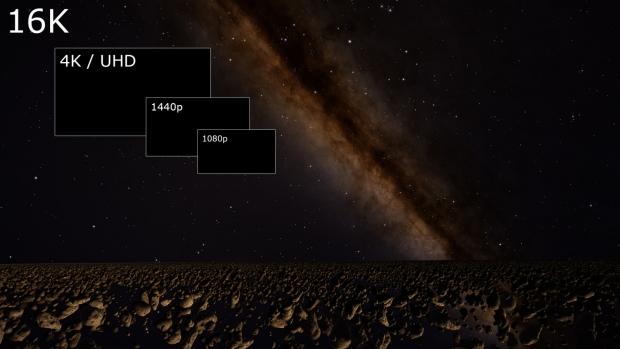 Let's get into the nitty gritty - 4K has 8.2 million pixels per frame, compared to the 2 million of 1080p. When we crank things up to 8K, we're looking at 33.1 million pixels per frame, and then at 16K it jumps to a mind-blowing 132 million. To illustrate my point, I found the picture above - it shows it in a perfect way, where 16K is just massive, utterly massive.
All of this is made possible by AMD's new Radeon Pro graphics card, powered by the Polaris architecture. AMD has shifted its focus within the professional graphics card world, rebranding their FirePro range to Radeon Pro - without killing off FirePro just yet.
Otoy used 16 x 55-inch 4K OLED TVs from LG, which looked beautiful during the demo. There weren't any games running on it, just static images, but one of them was from NASA and it looked utterly gorgeous. I do have one question, though: can it run Crysis?