What do you actually do in No Man's Sky? Sony has our answer
'Man cannot discover new oceans unless he has the courage to lose sight of the shore.'

Published Thu, Jul 14 2016 1:13 PM CDT
|
Updated Tue, Nov 3 2020 11:59 AM CST
Sony has launched a new video series aimed at answering the age-old question gamers have had for years: what do you actually do in No Man's Sky?
No Man's Sky has four pillars of gameplay: explore, trade, fight and survive. The latest video highlights the first--and arguably most majestic and interesting aspect of the game--exploration. Remember that No Man's Sky has a near-infinite universe made up of "18 quintillion planets to be explored across billions of miles of space," ensuring that every single planet is completely different than the last one. Hello Games has wasted no opportunities in demoing the insurmountably massive space-sim on numerous occasions, and the sixteen-man studio is now underlining those experiences in preparation for the game's launch next month.
We've also done our part to explain what No Man's Sky has to offer in our massive list of everything players can do in the game. Essentially No Man's Sky is a game where your only real objective is to travel to the center of the universe, exploring millions of planets and unfolding your experiences as you play. The planets are the main selling point; everything from the bizarre plant-life and strange alien creatures are procedurally generated, offering "limitless variety" from an exploration standpoint.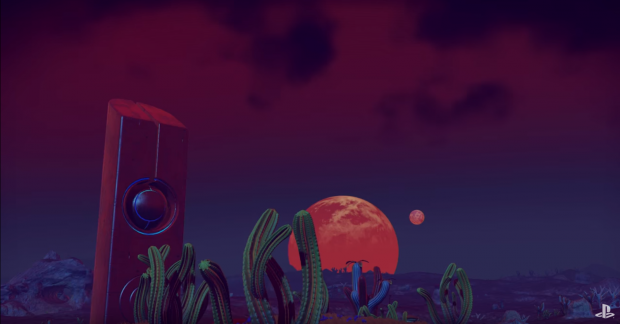 "Man cannot discover new oceans unless he has the courage to lose sight of the shore." --Andrew Gide
There's also trading with aliens, mysterious lore with ancient relics (think Forerunners or Precursors in Halo), intergalactic dogfighting with established interstellar federations, and on-planet survival simulations with tons of crafting elements thrown into the mix.
"I've said it before, but No Man's Sky is the hardest thing I've ever worked on. It's even bigger than you can imagine. This is a type of game that hasn't been attempted before, by a smaller team than anyone would expect, under an intense amount of expectation,"Hello Games head Sean Murray said in a recent blog post.
No Man's Sky will launch on August 8, 2016 on PC and PS4.
Related Tags