Right now, I'm benchmarking two GIGABYTE GeForce GTX 1080 G1 Gaming video cards in SLI, and I went online with a 1.5-hour Facebook Live video when I installed the second GTX 1080 G1 Gaming card. Check out my FB Live stream below!
I've been playing with the two GIGABYTE GeForce GTX 1080 G1 Gaming cards in SLI for a few hours more now, and I've been pushing some hard benchmarks at them. With both cards hitting 98-100% scaling, our entire Core i7-5960X powered system consumed just 490W total. We've put the cards through their paces with some great results, and now I'm overclocking the cards and they're handling over 2GHz on the GPU, even with its single 8-pin PCIe power connector.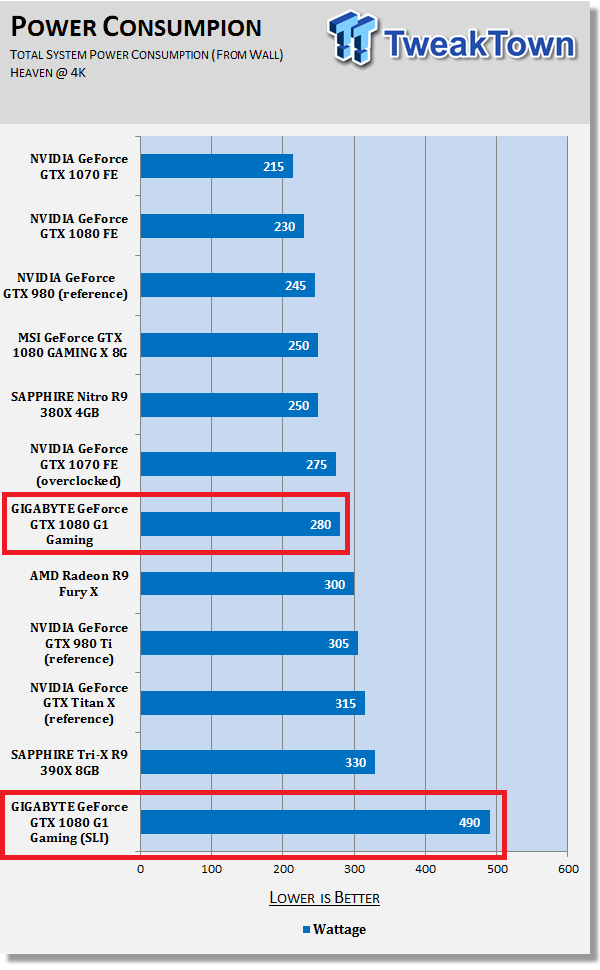 Comparing the 2 x GTX 1080 G1 Gaming cards in SLI using 490W of power, the Radeon RX 480 uses 100W under load - but in our system it might use slightly less, or more. Using the chart above, we see that the GTX 1080 G1 Gaming cards in SLI are only using 160W more power than a single Radeon R9 390X. The Titan X uses 315W, while the HBM1-powered Radeon R9 Fury X uses 300W.
If you haven't subscribed to Live notifications to our FB Live videos, you should! We will soon be doing giveaways through the FB Live videos, as well as some cool FB Live videos at future events - something we experimented with at Computex 2016.