I'm unfit to be a space pirate, that much is clear. And HTC has the video to prove it. Call it performance anxiety, but my virtual pew-pew skills were sorely lacking at E3. What wasn't lacking was the cool factor of stepping into a small green screen studio, strapping an HTC Vive onto my head, and knowing that within seconds of finishing the demo, there'd be a cool clip waiting for me.
Mixed Reality footage is a cool trick pioneered by Northway Games (for Fantastic Contraption) and perfected by Valve and HTC. There's no denying how magical that launch trailer for the HTC Vive was, particularly because it best conveyed how it felt to be in VR, surrounded by the game world, short of actually donning headset and going for it.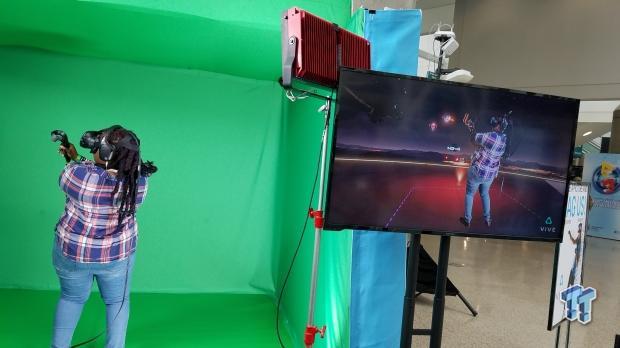 At E3, HTC had attendees step into their makeshift Mixed Reality studio and play a few minutes of Space Pirate Trainer VR. They pointed a secondary camera on them and utilized capture cards and free software like OBS to blend the two realities together. Seemingly within seconds of finishing my session, screenshots and the above footage was ready for me to download.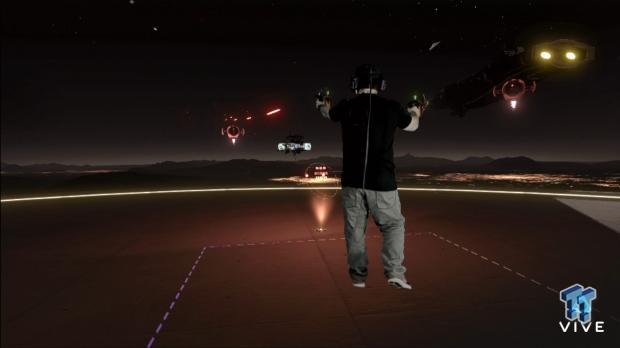 This is brilliant beyond just the cool factor. It's brilliant because it's cheap and easy marketing and spreads the VR love around. "Here, do this awesome thing and share it with your friends on social media." (Or at TweakTown!) I hope this becomes easier for the average home VR user in the near future, because it sure is fun to watch, and we'd love to start streaming our VR experiences on Twitch using Mixed Reality techniques.