Harmonix Music VR -- a virtual reality app launching alongside PlayStation VR that teleports you inside a world that reacts to your tunes -- already looked pretty awesome. Now Harmonix has revealed that they're turning Music VR into a dance party.
"The Dance is a brand new world for Harmonix Music VR that lets you to choreograph moves for whacky characters," says Harmonix' Nick Mudry. "Once you've got the party going on the dance floor, you can go to town with a variety of toys at the DJ booth, and even wreak havoc in Giant Mode."
I have no doubt this will be amusing both as player and as spectator. The Dance level will tap into what makes PlayStation VR unique right now among its competitors: an emphasis on social and multiplayer experiences that utilize both the PSVR headset and your television. Next party game confirmed!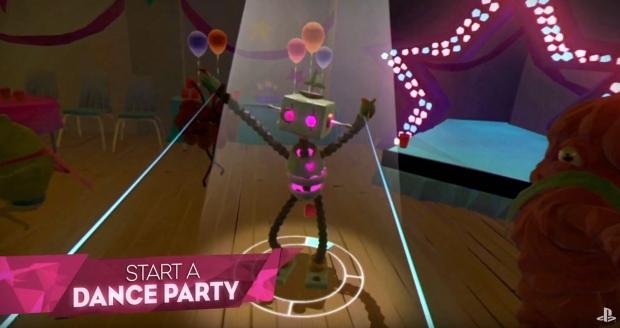 Prior to today's announcement, Harmonix told us about two other world's inside of Music VR. The Beach, "a relaxing, surreal landscape with hidden surprises," and The Easel which one-ups Google's awesome Tilt Brush and allows you to create virtual art that actually reacts to your music.
Harmonix Music VR will launch alongside the PlayStation VR in October with 17 songs that are pulled from Amplitude, A City Sleeps, and includes an entire album created by the company's own M-Cue. But the real hook is that, similar to games like Audio Shield, you can use your own music too!
Harmonix will have this on the dance floor at E3, so we'll be sure to check it out!