Computex 2016 -- MSI's aptly named Backpack PC enables portable VR experiences and removes that pesky cable from the floor. It may not be an exercise in practicality, but it is a bold glimpse into the near future.
I feel like VR backpacks are the punchline to so many jokes in the industry right now. After all, as much as I may love and believe in virtual reality, it's not necessarily a widely adopted technology. Yet. So you'd think a custom hard shell backpack stuffed with a specialized, battery-powered PC might be about as niche as things come right now. You'd be right.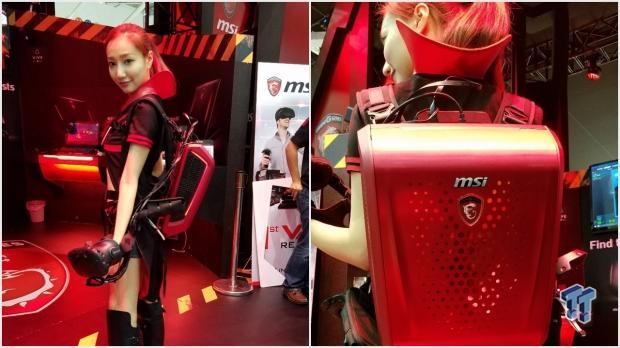 However, I really think specialized system mods like this might inspire VR game developers to push the envelope even further, especially in the realm of arcade-level multiplayer experiences at home. VR LAN party, anyone?
Think about it. It's a foregone conclusion that Valve and HTC are going to expand their Lighthouse technology at some point, and this will bring about the ability to track movable objects beyond just the single Vive user. So, the chaperone system would track the defined playspace, as well as other people inside of it. Once those boundaries expand, or we can add additional Base Stations to the mix, VR LAN parties will be born. Companies like The Void are already forging this trail on a more commercial, arcade-scale. In their latest experience, your VR Backpack becomes a Ghostbusters Proton Pack for fighting off the supernatural.
Right now the idea of strapping a 12 pound PC to your back seems a bit absurd, but as pricing plummets, and as developers start to create more out-of-the-box multiplayer games (VR is quite a solitary experience right now), I think gamer-organized VR LAN parties are going to be the real deal. We're not there yet. We're not even close. But kudos to MSI and other companies like HP and ZOTAC for being in on the ground floor. They're smart to do so.
As far as MSI's Backpack PC, it stuffs a 6th-generation Intel Core i7 CPU, NVIDIA GTX 980 video card, and even a power socket for plugging in the Vive's breakout box into its frame, which all told weighs about 12 pounds. There's also a user-replaceable battery which right now lasts for about 90 minutes before needing a charge. Think about the battery life of a high-end gaming laptop, and that's not as bad as it sounds.
We're not sure when it's launching or what it will cost, but here's to hoping that when it does hit the market, the VR landscape will have evolved to the point where I'll be craving a way to concoct a local VR LAN party.