NVIDIA's VR Funhouse is 'most technologically advanced VR game'
NVIDIA's new VR Funhouse is now available on Steam.

Published Sun, May 8 2016 3:21 PM CDT
|
Updated Tue, Nov 3 2020 12:00 PM CST
NVIDIA hit a home run with its new GeForce GTX 1080, with a huge concentration on VR - including the release of the super-fun VR Funhouse.
VR Funhouse is still in development, but it includes some awesome activities - where you get to shoot 'goo guns', shoot arrows and even throw around some balls around. I've played around with it for a few minutes so far, but it was really immersive, reminding me of my experience and time with Toy Box on the Oculus Rift at CES 2016.
We're going to spend some more time with VR Funhouse later today, but I did notice that the system was powered by not one, not two, but three GeForce GTX 1080 video cards. One of them acts as a standalone, dedicated GPU for PhysX, as VR Funhouse is a huge experiment for PhysX within the VR Funhouse world.
VR Funhouse makes great use of NVIDIA's various technologies, including VR PhysX, FleX, VRWorks Audio , Flow, HairWorks, and VR SLI. With all of these NVIDIA powers combined, it creates an immersive experience, something that NVIDIA calls "the most technologically advanced VR game to date".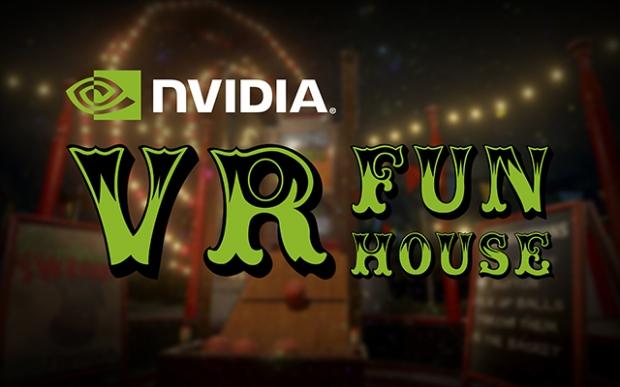 VR Funhouse will be released next month.
Related Tags