Red Dead Redemption 2's in-game map has reportedly been leaked onto the net, revealing that the upcoming sequel will actually be a prequel.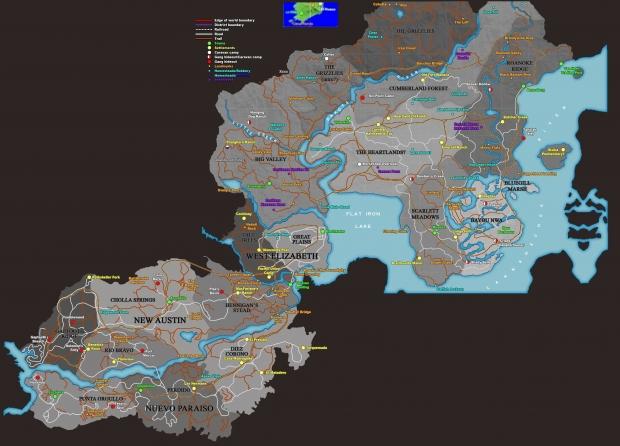 Just last month we reported on a rumor that Read Dead Redemption 2: Legends of the Old West would be released in 2017, and that it'd feature a "much bigger open world". Now Red Dead Redemption 2's in-game map has been leaked on NeoGAF, corroborating the claims of the huge open world and revealing some key details about the upcoming game.
Techradar reports that the map is indeed genuine, saying that the image is a "very recent" copy drafted up by Rockstar's art department. Their source even divulged that the game--dubbed Legends of the Old West--will be set before the events of Red Dead Redemption. The lower left-hand section of the map links with the original game's upper right-hand section, with the Great Plains and the Blackwater settlement serving as the juncture point between the two world zones. You can compare the two maps with the slider below.
As such the prequel extends beyond Red Dead Redemption's most eastern regions (The Great Plains and Flatiron Lake) and spans across eight new major zones. The map is fully detailed with a number of named towns, settlements, hideouts, and landmarks, but remember that this isn't the finalized version, so it could change at any time. If the map is indeed genuine, I'm almost positive the basic shape and design will be reflected in the final game, with maybe a few zones and names mixed around. You can
Rockstar will likely formally announced Red Dead Redemption 2 at E3 2016, and we'll be sure to keep you posted with any new info that springs up.