GDC 2016 - Ever since Lucky's Tale was introduced, I've been trying to get my hands-on playing it. Well, I got my chance at the Game Developer's Conference, and I was not disappointed. It's no wonder Lucky's Tale is included in the box with the Oculus Rift, as it's an awesome VR gaming experience.
Lucky's Tale, if you haven't played it or read/seen it yet, is a VR platformer like nothing you've ever seen before. It reminds me so much of Mario 64, with a blend of Banjo-Kazooie, with developer Playful Games rebuilding levels from both games in Lucky's Tale, so that they would better understand level design in VR.
The biggest change with Lucky's Tale is the way you interact with the camera, as normally it doesn't move (unless you are moving in the world itself) in games like Mario 64. By moving your head in the real-world, with the Rift on of course, the camera moves in the game - which is completely unique, because that's not how we've been playing games for the last 20+ years.
As for the game, you take control of Lucky - a fox - and play through the game like a standard 3D platformer. You'll find collectible coins, secret areas, and then sometimes secret areas where the game shrinks down to a near-normal platformer - which has to be seen in order to be believed. It's quite the change when you're in the game and find one of these areas, as you have to adjust the way you look at the game.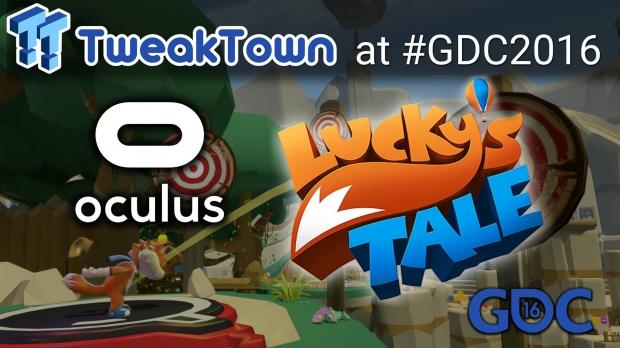 The take away from Lucky's Tale is that standard games work in VR, even when you think they won't. I said to Oculus at GDC that I have a 5-year-old daughter that would totally love playing Lucky's Tale, and that it scares me - one of her first experiences with a platformer will be Lucky's Tale in VR... where mine was Super Marios Bros. on the NES. Look how far we've come...