Windows 10 accounts for over 30% of Steam gamers
Windows 10 is set to outpace Windows 7 as the preferred platform for Steam gamers.

Published Wed, Feb 3 2016 12:32 PM CST
|
Updated Tue, Nov 3 2020 12:01 PM CST
With Microsoft pushing Windows 10 so hard onto consumers, it's no surprise that more and more users have jumped to the new OS. While most PC gamers prefer Windows 7 as their OS of choice, Windows 10 adoption is catching up fast and will likely outpace its predecessor on Steam.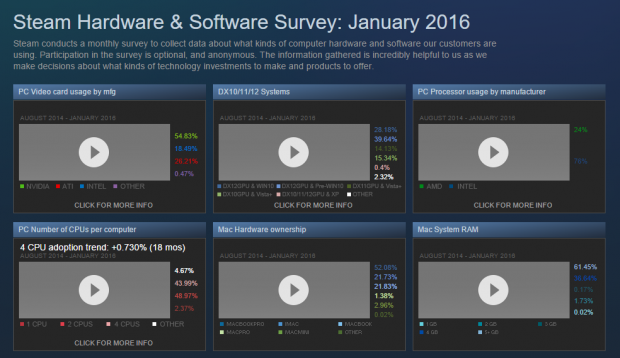 According to Valve's latest hardware and software survey, 32.77% of Steam gamers are running Windows 10 64-bit (up by 1.26%) as of January 2016. Windows 7 64-bit is still ahead with ~34% user installations, but not by much. We'll probably see Windows 10 dominate as the preferred OS on Steam by mid-year, especially since the free update expires on July 29.
Microsoft has also set Windows 10 as a "recommended update", meaning it'll download automatically if you have the auto update setting turned on. According to recent surveys, Windows 10 is installed in 1 of every 10 PCs--a number that will grow exponentially throughout the year.
In other Steam hardware stats, the survey reveals that NVIDIA's GeForce GTX 970 video card is the favorite choice with an increase of 4.12% adoption, and Team Green cards account for five out of the top ten graphics hardware slots. Most gamers still run ~1GB of VRAM, sport 8GB of system RAM, and game at 1080P. Also 48% of Steam users are running dual-core CPUs clocked at 2.3GHz to 2.69 GHz.
Related Tags