Buyer beware--if you pre-order The Division late, you still may not get into the game's ongoing beta test. Despite Ubisoft guaranteeing pre-buyers access to the beta, server space is filling up fast, and the devs are having a hard time keeping up with the demand.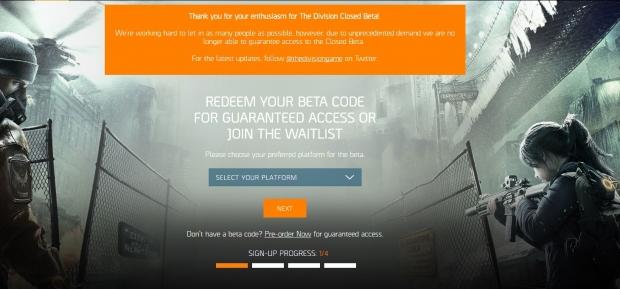 Right now the web is full of articles talking about The Division beta (including us), and it's pretty much the hottest thing going on this weekend for gaming. These posts and videos and content have a way of changing your mind on pre-ordering the game: gamers who initially avoided pre-orders might second guess themselves. What those sites aren't telling you, however, that you may not get access to the beta if you're late to the party.
"We're working hard to let in as many people as possible, however, due to unprecedented demand we are no longer able to guarantee access to the Closed Beta," reads the game's official beta redemption site. Ubisoft promises that it's on the case and will try to let in as many players as possible, but ultimately it looks like there's a finite amount of space--so the worst possible scenario is that you'll be denied access. The least possible scenario has you waiting for an undetermined amount of time to jump in.
If you want to get in for free, you can still register, but you almost assuredly won't get in. As anticipation and hype build up, more gamers change their minds and pre-order the game, and go onto a waitlist--the same kind of waitlist that free registrations go onto. I pre-ordered the game today and have yet to receive my guaranteed access code.
"We are now beginning to grant access to all remaining players who have redeemed a guaranteed access pre-order code on the Beta registration website," reads an update from Ubisoft. "We're also doing our best to grant access to players on the waitlist. Please check back later during the weekend for an update on this. "
All the while Ubisoft is happy to collect all those pre-orders and the retail sites and stores that sell the game have no mention about the limited beta space. If you're pre-ordering The Division to get into the beta, don't spend your cash until you catch up with the latest news updates from the official Twitter account.