Corsair's Bulldog, the living room PC of your dreams is coming soon
The Bulldog SFF chassis is coming soon, and it packs quite the ferocious liquid-cooled punch. You can have up to an X99, 5960X and a Titan X in here.
Published
2 minutes & 0 seconds read time
CES 2016 - The small-form factor PC is making waves in the industry in a very big way. Living room gaming is already a great convenience that console gamers have enjoyed, and now the PC is slowing moving that direction as well. Corsair has a a solution that can be both pre-built, and customized, that has it's own cooler and SFX power supply so you can potentially have the best living room experience. Titan X not included.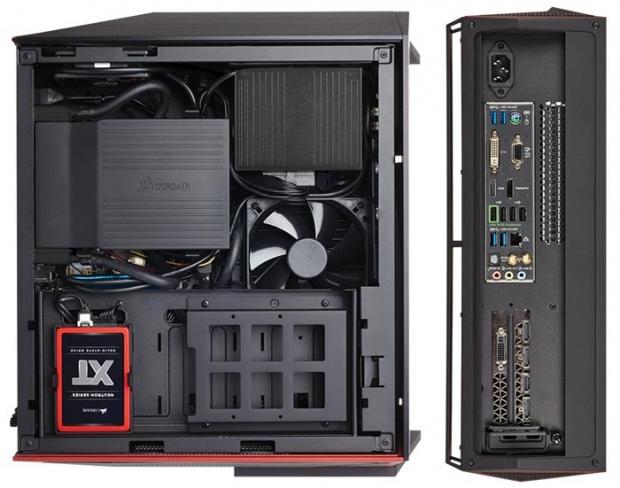 The Bulldog was announced in June, though development of the case has continued as they prepare to actually launch it. The surprisingly roomy case didn't quite ship when they wanted it to, which was over this past holiday season, but they've had time to refine the inside, moving screws around and making it an overall easier and more accessible case to work inside of.
But just like what was announced, this is built from the ground up to support both water-cooled CPU's (up to 150W), using their own SFF solution that comes with the case, and water-cooled GPU's if you get their GPU adapter or one of the hybrid cooled cards from MSI. Thankfully the power supply, an 80 Plus Gold certified 600W unit, can handle nearly any single card, even gual-GPU single cards. It's a uniquely shaped system that might not have the Wife Acceptance Factor, but it does fit into a lot of modern decor. In person it's rather stunning to look at.
And the premise of an actual powerful 4K capable system sitting underneath your TV and looking great while doing it is a sound, it's just the execution that might be not immediately be apparent. That is, control. How do you control the beast of a machine from your couch? Controllers don't work so well for selecting things in Windows. But the Lapdog, their homemade solution for integrating a keyboard and mouse, is an effective solution. And there are plenty of other ways to do that, as well as some neat homemade solutions. So m
Corsair is going to sell the Bulldog in three different flavors, and all three come at least with their H5 SFF CPU cooler. The first is at $299 and is barebones, with just the case, the power supply and the cooler. The next tier is a basic kit that includes the above plus a Z170 motherboard. And the last tier is a completely pre-built system with CPU and GPU, plus everything else. The estimated ship date is the first quarter of this year, so sometime very soon.
Related Tags