CES 2016 - During NVIDIA's CES 2016 press conference, CEO and founder Jen-Hsun Huang took the stage to talk about where NVIDIA is in its journey on automotive technology.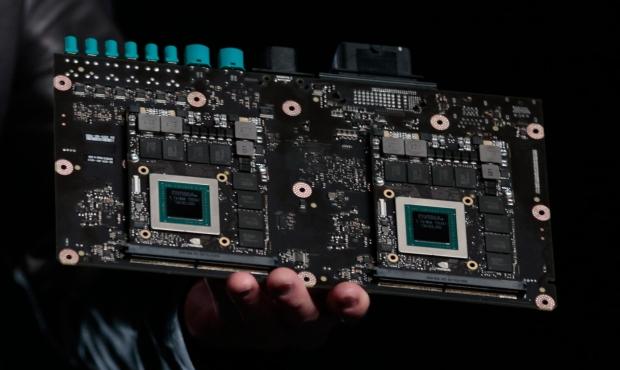 Huang announced that NVIDIA's next-generation Pascal architecture would be powering their automotive efforts this year, with it being as fast as 150 MacBook Pros. But, during my downtime in my hotel to read up on some of my favorite tech sites, I stumbled across AnandTech's piece on Drive PX 2.
One of AT's readers noticed that NVIDIA didn't use Pascal GPUs when Huang held up a prototype PCB with two Pascal GPUs. AT reports: "Kudos to our readers on this one. The MXM modules in the picture are almost component-for-component identical to the GTX 980 MXM photo we have on file. So it is likely that these are not Pascal GPUs, and that they're merely placeholders".
Pascal will be using HBM2, which would result in no visible VRAM chips surrounding the GPU, but the board Huang held up during the press conference has visible VRAM chips. I think Pascal will be arriving in two ways: enthusiast-class parts with HBM2, and mainstream parts using GDDR5X - but, the GPUs themselves according to AT and their readers, are GTX 980 MXM modules. Interesting...