Concerns mount for Android handset profit as Apple dominates earnings
Apple gathers 92% of smartphone profits as Android-based mobiles feel the strain.
Published Tue, Dec 22 2015 7:31 AM CST
|
Updated Tue, Nov 3 2020 12:02 PM CST
Statista has published a report recently that is quite interesting to some and nothing new to others. Showcasing global smartphone profits from January to September 2015, this chart tells the story that Apple dominated smartp[hone profits, owning 92% of this global figure.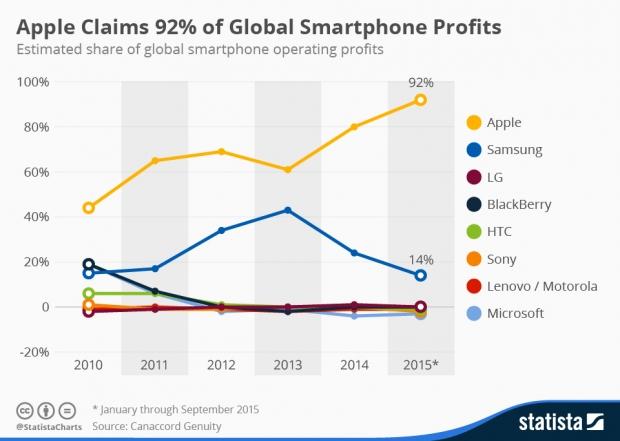 While many users complain that Apple devices are overpriced and under performing, charts like this help drive home the fact it's all business, with companies existing with the main purpose to turn a profit of its own. Coming in second on this list is Samsung sitting at 14%, with 'everything else' thrown right down into the basement, including ( in order) the likes of LG, BlackBerry, HTC, Sony and Lenovo/Motorola, with Microsoft bringing up the very rear.
We reported that Android co-founder, Andy Rubin, is even looking into making handsets of his own, drawing us to curiosity as to why he would want to enter such a turbulent market. Rumors claim that he will be looking at premium handsets only, likely in an attempt to jack up profits on phones in order to operate a viable business.
Related Tags