Fallout 4 Wasteland Survival Guide Part 3: Bobbleheads
Looking to boost your SPECIAL? We'll show you where to find every bobblehead to raise your stats.
Published
2 minutes & 20 seconds read time
Bethesda has overhauled Fallout 4 in such a way that every SPECIAL stat is fantastic in its own way. Not only does each stat have its own balanced effect in-game, but they are now tied to a dynamic Perk tree, pretty much nixing all chances of being a "jack of all trades".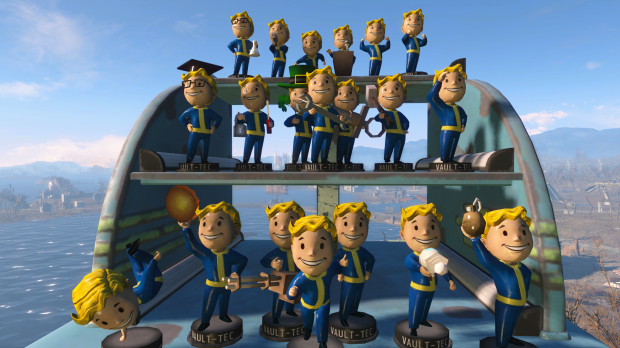 It used to be that Fallout players could get away with pulling SPECIAL points away from a specific stat to fuel better ones, but Fallout 4 doesn't have a "dump stat" so to speak. Luckily the game still has bobbleheads, which are a must-have to round out and smooth your character's prowess. Whether you've skimped in Agility or pulled a ton of points away from Perception, our bobblehead guide will show you where each of these comical collectibles are hiding so you can shore up those rough edges.
Fallout 4 has 20 bobbleheads this time around, and you'll notice right away that these collectibles are a bit different. The SPECIAL bobbleheads--Strength, Agility, etc--all raise the specified stat point by 1. Bobbleheads like Melee, Repair, Science and Small Guns, however, give you extra perks. You can find the full range of effects and locations in our comprehensive checklist below.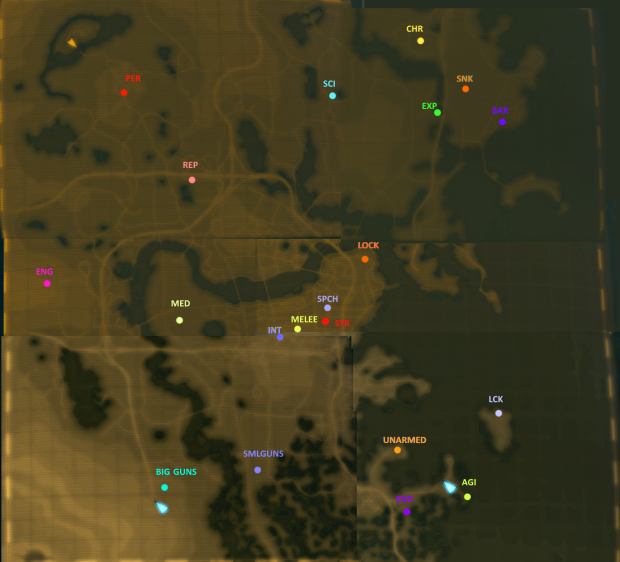 You can also get our bobblehead guide in Google Doc format if you'd rather have a grid-style checklist. We've also separated the bobbleheads by region so you can swoop through and pick them up in one run, rather than running back and forth. Be sure to scroll down below the checklist to find the convenient zone sections for each bobblehead.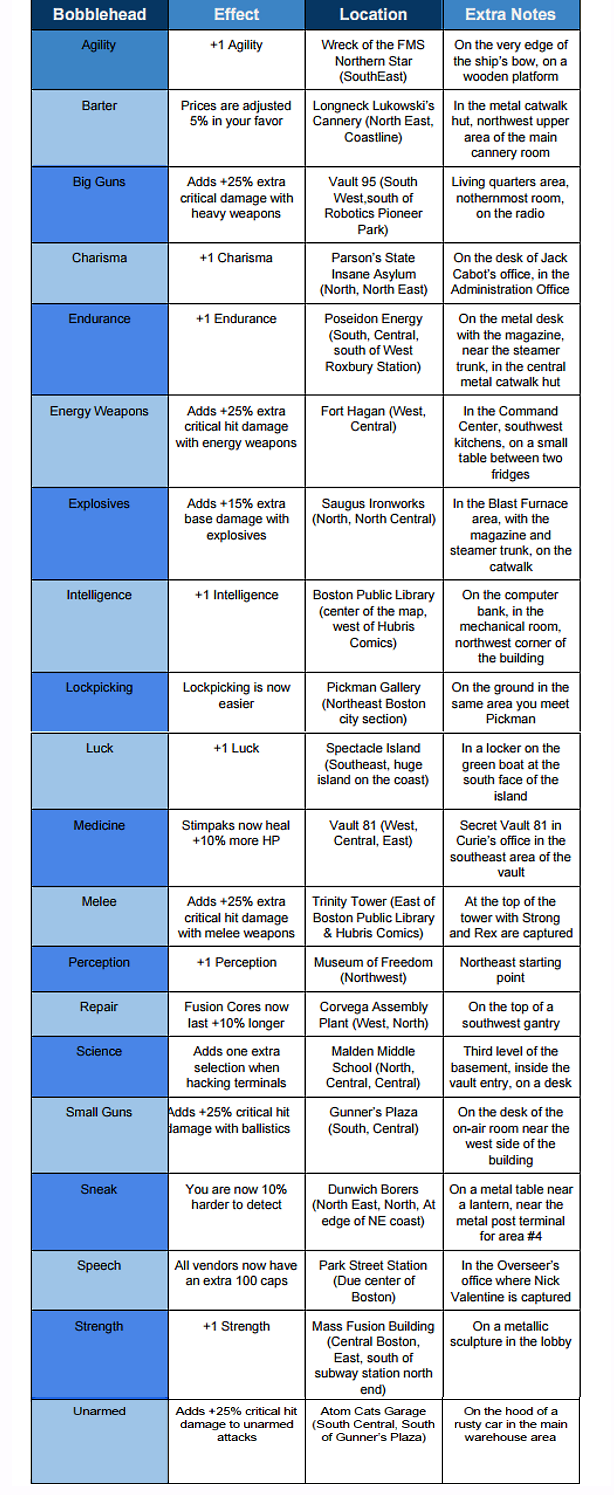 Zone 1 Northwest
Zone 2 North Central
2.07 Charisma

2.19 Explosives

2.23 Science
Zone 3 West Central (south of Zone 1)
3.12 Energy Weapons

3.22 Medicine

3.06 Repair
Zone 4 Northeast
Zone 5 Southwest (south of Zone 3)
Zone 6 Southeast (south of Zone 4)
6.30 Agility

6.28 Endurance

6.31 Luck

6.17 Small Guns

6.27 Unarmed
Zone 11 Back Bay
11.01 Intelligence

11.05 Melee
Zone 13 Neighborhood North End
Zone 14 Boston Common
Zone 15 Neighborhood Financial District
For more wasteland content, be sure to check out our basic tips guide and PC console commands guide to set up some insane battles, as well as our official Fallout 4 review.
Related Tags