Windows 10 conquers SteamOS in game performance
Valve's SteamOs may have trouble gaining traction if it can't step up its game.

Published Fri, Nov 13 2015 7:12 PM CST
|
Updated Tue, Nov 3 2020 12:03 PM CST
The operating system powering the new wave of Steam Machines, Valve's newborn SteamOS, might be in trouble. It looks like the Linux-fueled SteamOS is underwhelming in actual real-time gameplay when compared with today's Windows 10 standard, showing a possible grim future for the fledgling living room PC market.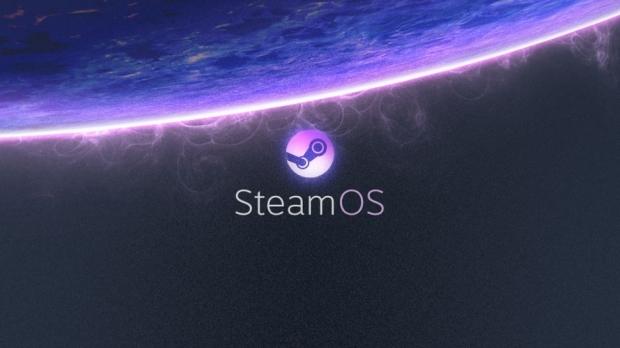 Ars Technica has published a new tech demo that saw Windows 10 go head-to-head with Valve's SteamOS. The results showed SteamOS somewhat holding its own in GeekBench tests, but Windows 10 completely dominated over the Linux newcomer in gaming benchmarks. Ars notes that SteamOs dropped frame-rates up to 58% lower than Windows 10.
With Shadows of Mordor running on Ultra settings at 1792x1120 resolution, SteamOS maintained a paltry 14.6 FPS, with Windows 10 pegged at 34.5 FPS. On Low settings for the same game, SteamOS runs at 61 FPS whereas Windows 10 hits 95.5 FPS. Benchmarks for Metro: Last Light were more of the same. With Metro running at 2560x1600 resolution with minimum presets, SteamOS hit 40 FPS with Windows 10 at 50.5 FPS.
Valve's own first-party games suffered a blow as well. Windows 10 beat SteamOS by a margin when running Team Fortress 2, DOTA 2 and Portal. Only when running Left 4 Dead 2 could SteamOs stand toe-to-toe with Windows 10, with the former hitting 49.1 against the latter's 50.1 at 2560x1600 resolution at max settings.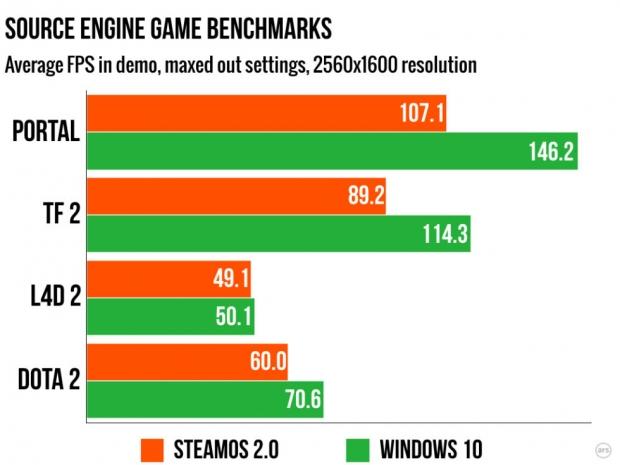 Ars used a dual-boot mini-ITX PC with both SteamOS and Windows 10, most likely to simulate a Steam Machine. As such the rig's specs were lower-end, and consist of a dual-core Intel Pentium G3220 at 3.0GHz, a Zotac GeForce GTX660 with 2GB VRAM, 8GB DDR3-1600 onboard RAM, and a MSI H81I mini-ITX motherboard.
As nearly all of the upcoming Steam Machines are powered by Valve's new SteamOS, this quick benchmark test shows that gamers should probably steer clear for a bit. That being said, SteamOS is still new and will likely receive a number of hefty upgrades and updates to optimize gameplay performance. DirectX 12 is on the horizon, however, and Microsoft's new API could push the performance discrepancy even farther in Windows 10's favor.
Related Tags