NVIDIA rumored to use GDDR5X on next-gen Pascal-based GPUs
NVIDIA rumored to use both HBM2 and GDDR5X, the successor to GDDR5, on their next-gen video cards.
Published
1 minute & 26 seconds read time
We heard rumors not too long ago that NVIDIA was internally testing its new Pascal architecture, but this news is even more exciting. Rumor has it NVIDIA has been testing not only the high-end GP100 card, but the GP104.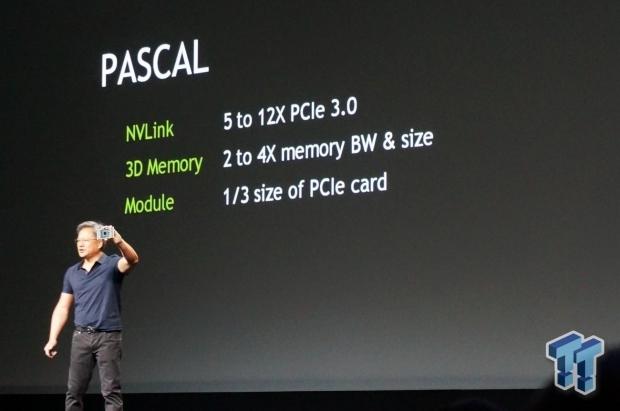 Some of you might know the nomenclature NVIDIA uses for its GPUs, with the current GM204 GPU powering the GTX 980 and GTX 970 while the GM200 powers the GTX Titan X and GTX 980 Ti. The GP100 GPU will be the monster GPU that will power a new super-enthusiast and professional-orientated card, such as a new Titan X and Tesla/Quadro range, while the GP104 will most likely find its way into a new consumer GeForce product. We don't want to say the GTX 1080, as we really think NVIDIA will change gears with a next-gen product and shift around the product naming.
The latest rumor is that there will be a successor to GDDR5 called GDDR5X, and it will debut with NVIDIA's next-gen GeForce product. GDDR5X will reportedly keep the same 256-bit memory interface we have on the current GTX 980 while ramping up the memory bandwidth to 448GB/sec - higher than the best AMD cards, save the Fiji-based HBM-powered cards. HBM2 is still obviously on the cards, and will include a 4096-bit memory bus at 1GHz with memory bandwidth hovering at 1TB/sec.
In our post about NVIDIA testing its new Pascal GPU internally, I did say "I would love to see a GDDR5-based offering for the cheaper mainstream side, and a HBM2-powered GeForce 1000 series card for the enthusiasts" and it looks like I could be right on the mark if the current rumors are true. It looks like we could expect a GDDR5X-powered, Pascal-based GeForce card while the enthusiast-class cards will enjoy the much faster, but more expensive HBM2 technology.
Related Tags