iPhone 6S chipgate: TSMC's CPU has better battery and core performance
TSMC's iPhone 6S CPU beats Samsung's 14nm processor in battery and multi-core performance.

Published Thu, Oct 8 2015 8:29 AM CDT
|
Updated Tue, Nov 3 2020 12:03 PM CST
Since the new A9 CPU that powers Apple's new iPhone 6S was made by two different manufacturers--TSMC and Samsung--many users have reported varying performance like shorter battery life. This led to a controversy called the "iPhone 6S chipgate", and now it looks like some solid evidence has surfaced that proves the two CPUs are in fact quite different.
Trusted tech geeks John Morrison and Austin Evans have investigated the chipgate scandal in new YouTube videos, each running a number of performance tests that pit the TSMC's 16nm N71MAP processor core against Samsung's 14nm N71AP CPU. The findings reveal that TSMC has the superior chip, with Samsung's A9 chip running hotter and yielding lower battery performance.
The two phones were tested out in a number of real-world environments including video recording sessions, running high workload apps, and benchmarking stats. The tests showed that the TSMC-made iPhone 6S CPU kept its battery charge much more efficiently than the more compact Samsung A9. When it comes to actual CPU performance, Geekbench revealed that the TSMC model "consistently outperformed the Samsung model in multi-core performance". Austin conducted a simple battery test to see how long it took for each model to hit 50% battery, and the TSMC iPhone 6S actually lasted a full 50 minutes longer than the Samsung version.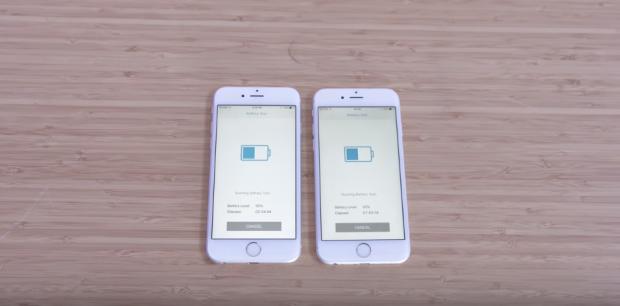 The video tests showed a similar result. After half and hour's worth of 1080p video recording, the Samsung 6S model had dropped to 84% power whereas the TSMC iPhone 6S was still at 89%. Bumping it up to 4K video capture, the Samsung 6S dropped to 75% after just 10 minutes of 4K video recording while the TSMC was at 80%. Other tests didn't show much of a significant difference: GFXBench results showed an identical 39.9 frames-per-second across both phones, and the models also matched one another when rendering footage in iMovie.
There you have it--the iPhone 6S smartphones aren't exactly created equally, and if you're in the market for a new iPhone you should definitely try to get ahold of an iPhone 6S that sports TSMC's 16nm N71MAP A9 CPU. You'll get added benefits like improved battery life across the board and a small boost in overall CPU performance for the same price.
Related Tags