Floating VR rig paves way for virtual reality rides
German engineers have created a suspended array that simulates spatial movement for a new level of VR immersion.

Published Thu, Sep 24 2015 4:16 PM CDT
|
Updated Tue, Nov 3 2020 12:03 PM CST
The Max-Planck Institute for Biological Cybernetics has created an incredible suspension rig that adds a new dimension for VR sim potential.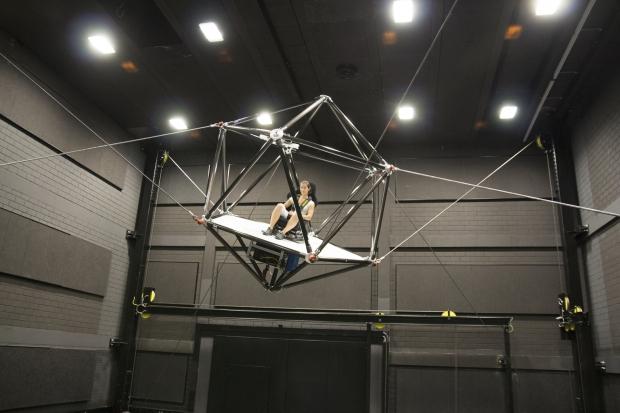 The array is called the Cable Robot, and is an icosahedron-shaped lightweight carbon-fiber frame that's fully suspended by eight thick cables that allow omni-directional control in midair. Essentially the array can simulate dynamic spatial movement that could bring a whole new level of immersion for amusement park rides, gaming sims, and even cinematic movie experiences.
Users are safely ensconced within the geometric frame while wearing a VR headset, and thanks to the optical tracking system, the rig will actually move and react in accordance to user movements. The eight-cable suspension provides "freely programmable trajectories within six dimensions" and will bank, tilt, and accelerate with a total force of up to 1.5G's.
The Max-Plancke Institute hopes to use the array for scientific research like testing "the thresholds of human movement perception" as well as driving and flight simulation, but the Cable Robot could bring a whole new generation of immersive entertainment experiences.
Imagine what this kind of technology could bring to arcades and movie theaters. Moviegoers could experience an explosive high-speed car chase or scour the stars in an interstellar dogfight the likes of which we've never seen before. It'd be like combining an unforgettable amusement park ride with a movie. Also the Cable Robot could completely revolutionize gaming arcades--imagine playing Forza Motorsport or cruising the cosmos in Elite: Dangerous or No Man's Sky.
Related Tags