Intel unveils new Optane brand at IDF 2015
Intel launches a new brand of memory hardware powered by its next-gen 3D XPoint flash memory.

Published Tue, Aug 18 2015 3:31 PM CDT
|
Updated Tue, Nov 3 2020 12:04 PM CST
At IDF 2015 Intel has revealed Optane Technology, a new hardware brand built around its new XPoint high-performance 3D flash memory.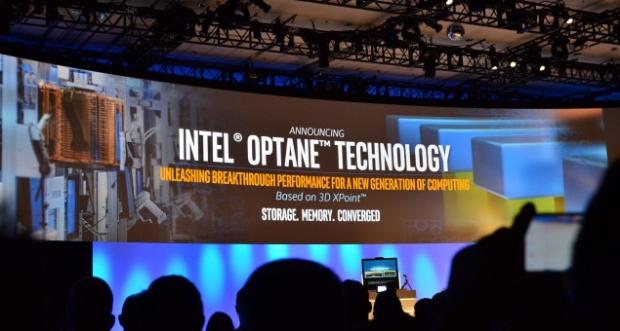 Intel's new XPoint-powered Optane hardware is planned for a release in 2016, marketed across an array of form factors including standard SSD's and will even be compatible with Xeon systems via DIMM. Intel affirms that the high-density Optane tech isn't just a conventional storage solution and can be used to help power and optimize datacenter servers and Xeon workstations that require low-latency and high-bandwidth performance.
Last month Intel shed light on the next-generation Xpoint (pronounced Crosspoint) 3D memory with an number of impressive specs; since its 10X more dense than traditional SSD's, Xpoint boasts speeds up to 1,000 faster than traditional NAND storage and offers a whopping 10TB+ in SSD storage capacities (Samsung has already hit 16TB SSD's with its own 3D memory solution).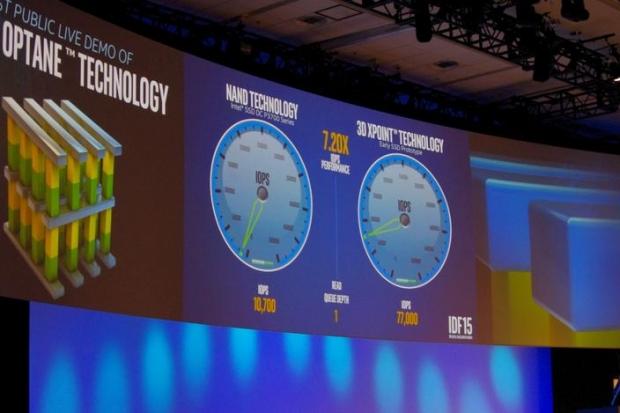 To demonstrate the performance gains from Optane tech, Intel demoed an Optane SSD connected via PCIe against the P3700, the current best conventional SSD it produces. The results were quite eye-opening to say the least: at low queue depth the Optane SSD hit an Input/Output Operations Per Second (IOPS) performance rate of 7.2X that of the P3700, whereas the Optane's high queue depth results rendered a result of 5.21 times that of the P3700.
Related Tags