New Xbox One update adds Cortana, new dashboard
The new Xbox One update will bring some major changes to the console's dashboard and more.

Published Mon, Jul 27 2015 3:32 AM CDT
|
Updated Tue, Nov 3 2020 12:05 PM CST
Microsoft is bringing some new major changes to the Xbox Onewith the Fall update, including voice-assisted support from Cortana and a new dashboard layout--but speed is their top priority.
"Brand new Xbox One User Interface experience that will be going out this fall and is really focused around speed and getting to things faster," Xbox's Richard Irving told GamingBolt at E3 2015. "Our design point of the new Xbox experience is speed and making all of the things you do on Xbox Live, both in and out of the game much faster."
As an Xbox One owner myself I can attest that the console's menus can be sluggish. Firing up an app or starting up Snap Mode can take a bit, meaning you'll sometimes miss that perfect moment you wanted to record.
Microsoft plans to yield to the overwhelming feedback by tweaking the console's UI. Key changes include a quick-launch for Pinned apps and games as well as a new sleek dashboard that doesn't exactly scrap the "live tile" look, but streamlines it. The new complete redesign has options to easily start up a party chat without having to use snap mode or pause the game to go to the main menu.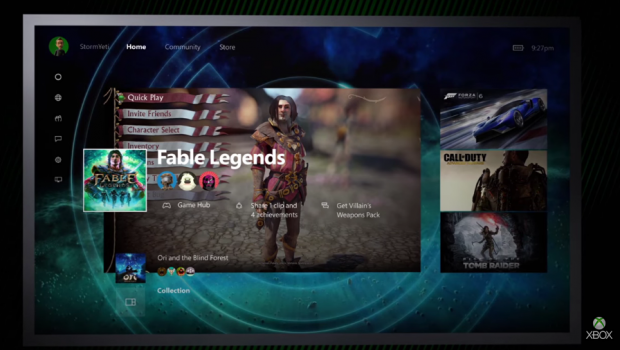 Menus themselves are more vertically based than horizontal, and there's a new Quick Menu set on the lefthand side which brings fast access to Party, Notifications, Messages and adjustable on-the-fly settings. The Quick Menu is accessed by double-tapping the Xbox button and will launch on top of gameplay, so you can quickly access and change settings while you're in a game. It also looks like the Quick Menu might have replaced Snap Mode, and screenshots weren't mentioned in any capacity.
It looks like Cortana will only be accessed via the Kinect, adding some much-needed smarts to the sensor. Certain voice commands can be initiated with the phrase "Hey Cortana" including checking friends lists, sending messages, searching the web, and recording footage.
The new Xbox One update is planned to release this Fall, and Microsoft will likely unveil more concrete info in the coming months.
Related Tags