While the Radeon R9 Fury X is already one of the smallest flagship video cards ever released, the upcoming R9 Nano is going to shrink that down to a whole new level. The R9 Fury X measures in at around 19cm, but the R9 Nano is just 15nm.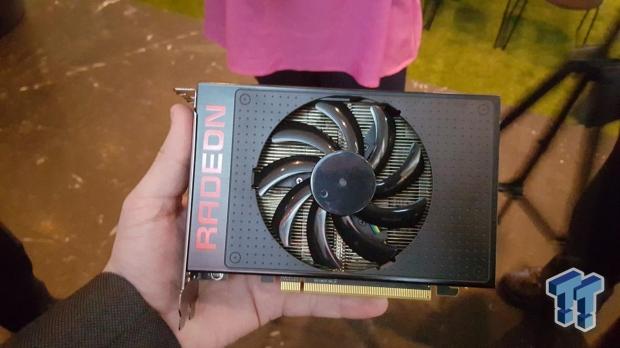 How much power does the R9 Nano have behind it? Well, according to some leaked benchmarks, the R9 Nano would feature similar performance to the massive R9 290X, but with half the power consumption. Considering the size of the card, this is quite the achievement, with most of the thanks going to High Bandwidth Memory (HBM). Another benefit over the Fury X is that the Nano features an air-cooler, and not an all-in-one liquid cooler like the Fury X.
Back to the benchmarks, where DGLee from IYD.KR reports that the Unigine Heaven benchmark running at 4K with the R9 Nano pushing out 26FPS. These numbers are from AMD themselves, showing off the bandwidth per stream processor. The R9 290X has 320GB/sec of memory bandwidth, with 2816 stream processors, leaving the R9 290X with 0.1136GB/sec. The R9 Nano with its 4096 stream processors and 512GB/sec bandwidth courtesy of HBM, delivers 0.1250GB/sec. When it comes to the power efficiency, the R9 Nano has 0.152 FPS/watt, while the R9 290X features 0.076 FPS/watt... a large increase in the R9 Nano's favor.
The release of the R9 Nano happens next month, where you can be sure we'll be running it through its paces here at TweakTown.