AMD launches the A8-7670K APU, with 4 CPU cores and 6 GPU cores
AMD launches its new refreshed APU, the A8-7670K.
Published Mon, Jul 20 2015 7:01 AM CDT
|
Updated Tue, Nov 3 2020 12:05 PM CST
A few months ago AMD launched their 'Kaveri' refresh, the A10-7870K, and today they are launching another refresh, the A8-7670K. The A8-7670K will feature 10 compute cores which consists of 4 CPU cores and 6 GPU cores.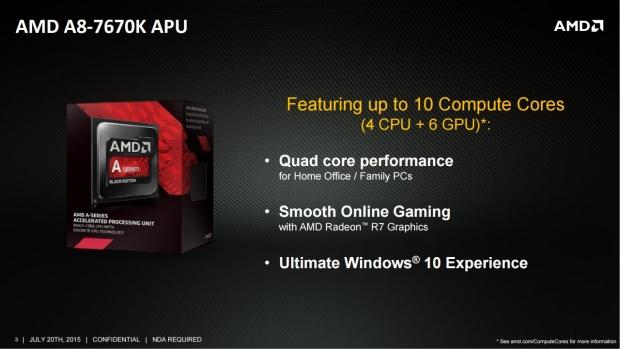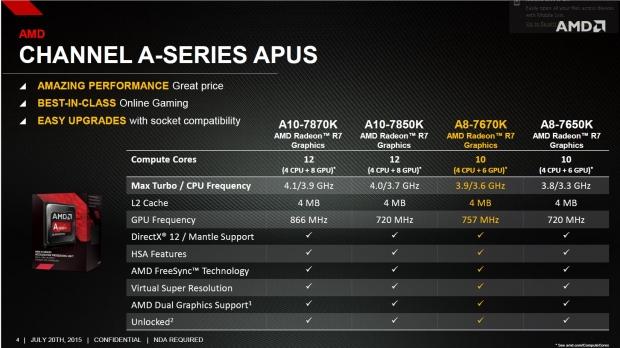 Compared to its predecessor, the 7670K will have boosts in both CPU (100MHz turbo/300MHz base) and integrated GPU (37MHz) clock speeds. The 7670K is aimed at users who want strong performing integrated graphics at an affordable price, such as a family PC where games consist of online titles such as League of Legends.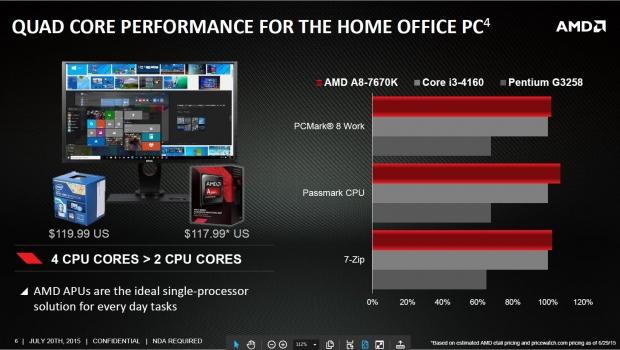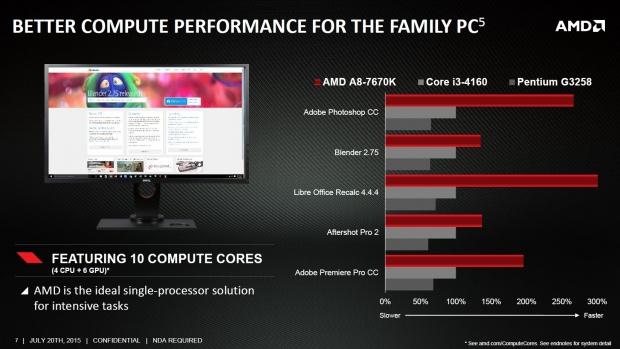 Compared to a similarly priced Intel i3, AMD promises increased CPU and integrated GPU performance, especially when the program utilizes combined CPU and integrated GPU workloads.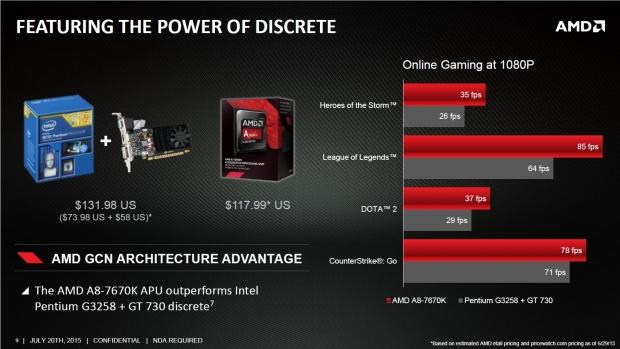 Everyone knew the day would come when sub $100 discrete video cards would lose out to integrated graphics in gaming workloads. AMD has been pushing for faster integrated graphics since they first launched their APU line, and now they are able to maximize the value of the integrated GPU at an affordable price point. While many users have commented that they don't see a point to powerful integrated graphics, there are two things to consider. First is the fact that a huge chunk of gamers actually play online based titles such as League of Legends, CS: GO, and DOTA 2 which can be played with more powerful integrated graphics. Second is what DX12 will bring to the table with multi-adapter technology (if of course discrete GPU vendors don't sink it).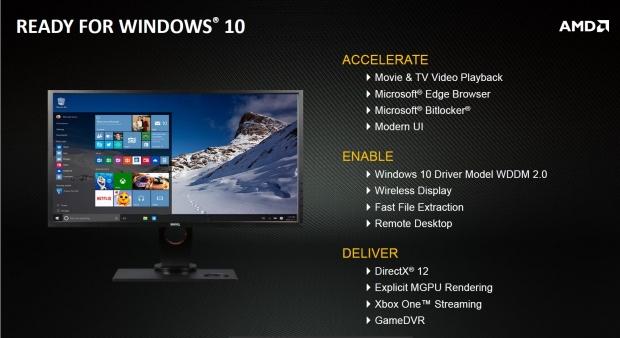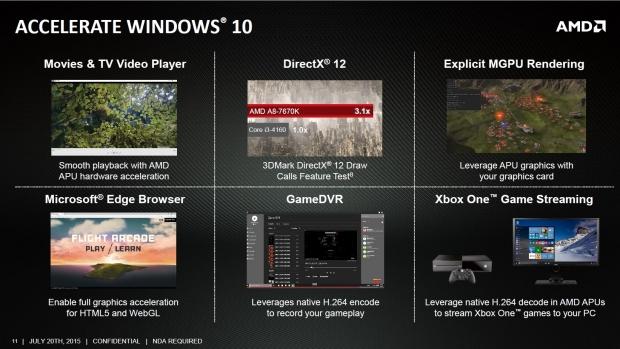 AMD seems to be doing well with Windows 10 and DX12, and their 7670K and 7870K are ready to handle the new OS and API. What I am really excited about is the explicit MGPU rendering, which Microsoft also calls "multi-adapter". It will make it possible for the integrated GPU and discrete GPU to work together simultaneously on different parts of each frame. I have yet to test a demo capable of turning on this functionality (hoping that Ashes of Singularity has one soon), but people should be more excited because it shouldn't be a gimmick like Virtu's MVP technology which just used the iGPU as an output frame buffer, it will instead throw the iGPU's processing power into the same pot as the discrete GPU's processing power. Other than multi-adapter, Windows 10 will offer a slew of newer features, and the 7670K should be able to support them.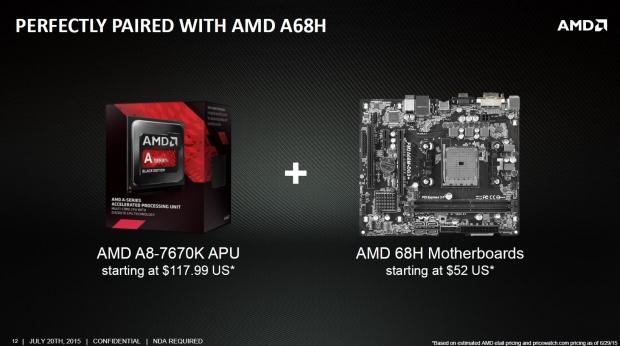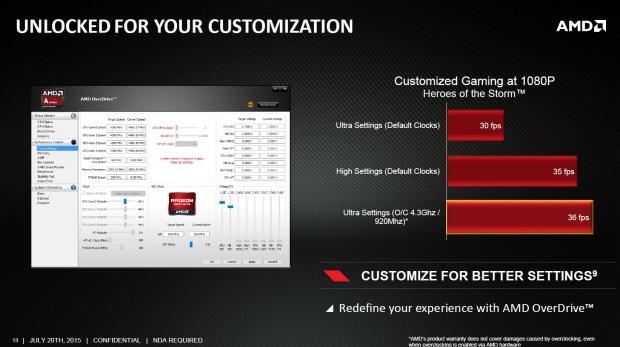 The 7670K is very affordable with an expected price of $117.99, but what is even more appealing is the affordability of the motherboards. AMD also offers the 7670K fully unlocked, meaning you can tune up the frequency of both the CPU and integrated GPU to your liking through their AMD OverDrive application.
Related Tags