FoxYeah! Firefox launches a new browser marketing campaign
Firefox launches confusing FoxYeah marketing campaign, asks as all to 'invite your peeps'
Published Thu, Jun 4 2015 2:42 AM CDT
|
Updated Tue, Nov 3 2020 12:06 PM CST
Following our recent news which saw Firefox place 'read-it-later' support directly into the browser, Mozilla has now launched a marketing campaign titled with the slogan 'FoxYeah' in a bid to win over more users.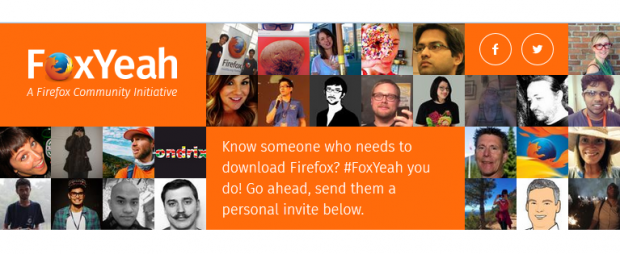 The spiel at the top of the page reads "know someone who needs to download Firefox? #FoxYeah you do! Go ahead, send them a personal invite below," and seems like a bid to turn its users into some form of fan-boys, advocating for a brand they support.
With panels on the foxyeah.Mozilla website telling users to do things like invite followers, 'invite your peeps' and more, he page continues on for quite some time telling you which people you should invite from random walks of life.
We're not exactly sure if there is anything else to this campaign at all.
Related Tags