New consumer Intel 750 NVMe SSD pops up in UNH-IOL compatibility list
Intel's unreleased 750 SSD pops up in an NVMe compatibility list, along with other pending NVMe SSDs.
Published Mon, Feb 2 2015 2:00 PM CST
|
Updated Tue, Nov 3 2020 12:10 PM CST
UNH-IOL has announced during the third NVM Express Interoperability Plugfest that twelve products were added to the UNH-IOL (University of New Hampshire Interoperability Lab) NVMe 1.1b Integrators List. One item on the list that is sure to interest the enthusiast crowd is the Intel 750 SSD. News of the Intel 750 cropped up in a leaked roadmap, with release of the code-named 'August Ridge' product scheduled for Q4 of 2014. Of course, this time has passed.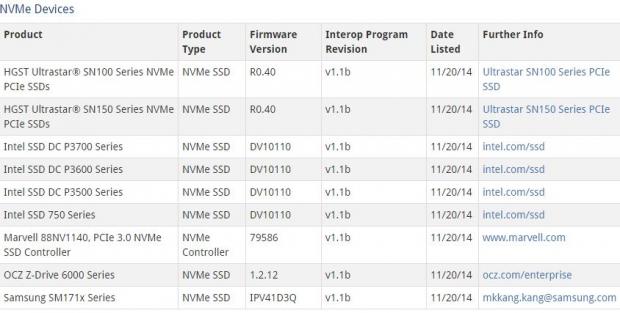 There were no details in the leaked roadmap, but now we know that the August Ridge SSDs will feature the NVMe 1.1b interface. It appears, from the leaked roadmap, that the Intel 750 will be available in both the M.2 and 2.5" form factor, and come in capacities of 180, 240, 360, 480, and 600GB. NVMe will provide a low-latency interconnect that will allow Intel to finally break the SATA performance barrier. Even though the proposed release date on the leaked roadmap has passed, the Intel 750 SSD is clearly still on the way to consumers. It appears Intel is close to being the first SSD manufacturer with a consumer NVMe SSD on the market.
Another interesting inclusion is the Intel DC P3700 series of products (evaluated here). These products are already on the market with NVMe 1.1a, and will be upgradeable to offer NVMe 1.1b functionality with a firmware update.
Other devices on the list included the enterprise-oriented OCZ Z-Drive 6000, which we have covered here and here. The enterprise Samsung SM171x SSD is also listed, and the Marvell 88NV1140 controller. HGST's new Ultrastar SN100 and SN150 SSDs also made the list, and are coming to market soon.
The NVMe ecosystem continues to expand, and for those interested in learning more head over to our Defining NVMe article.
Related Tags