Social media wins again - football fan uses Twitter to find a girl
Football fan Angus Mainland takes to Twitter in order to find his one true love from a train journey.
Published Jan 27, 2015 2:04 AM CST
|
Updated Wed, Jul 27 2022 3:46 AM CDT
0 minutes & 53 seconds read time
After forgetting to grab a lovely ladies number on the train, Crystal Palace fan Angus Mainland took to Twitter, publishing a selfie they had taken together and asking - who's that girl?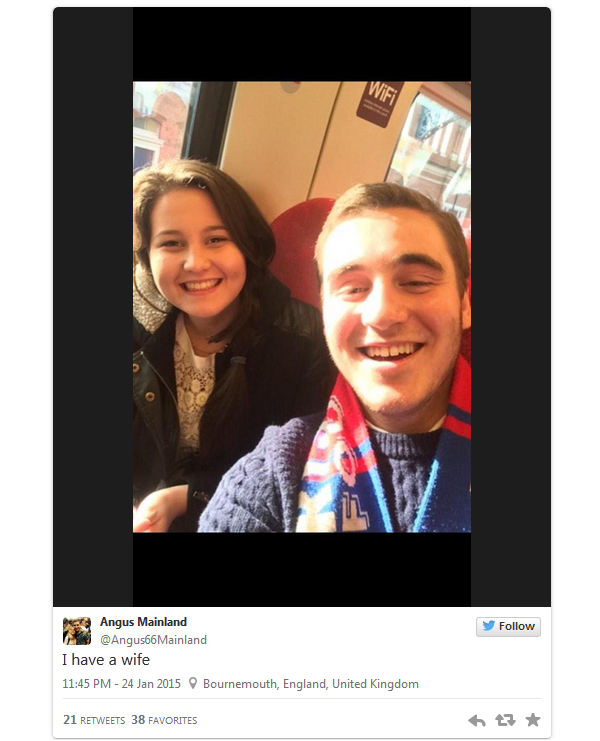 They snapped a few selfies, shared a scarf and Mainland claimed he was in love - it seems like it was meant to be. Asking Twitter and the Cross Country Trains for help, he set out on the path to track down his one true love.
With over 4,600 re-tweets and almost 2,000 favorites, Mainland's quest was bolstered into the news-feeds of tens of thousands of would-be do-gooders, seeing this question come back with the goods and finding the girl in the end. In an interview with a local newspaper, The Croydon Advertiser, he stated that "at half time it had got 30 re-tweets and after full time it was over 100," further adding "my friend who's a Southampton fan said that if I got 2000 re-tweets then he'd get a tattoo to commemorate Palace's incredible win. I never expected to have that kind of response, it's been incredible. The majority of people responding have been supportive."
Not only did his football team win 3-2 at the game, but he's stated that the girl in question has "taken it very well!" Props to you Angus, you've certainly got a great story to share with your children.
Related Tags