Twitter now using Bing to translate content
Twitter is now using Bing to translate tweets - A ltitle hard to get to and not available unless you log in, it's better than copy pasting to Google.
Published Jan 26, 2015 4:28 AM CST
|
Updated Wed, Jul 27 2022 3:46 AM CDT
0 minutes & 45 seconds read time
All Google vs Bing jokes aside, Bing is now almost-everywhere and used by many different programs, social medias and applications for their translation and content services.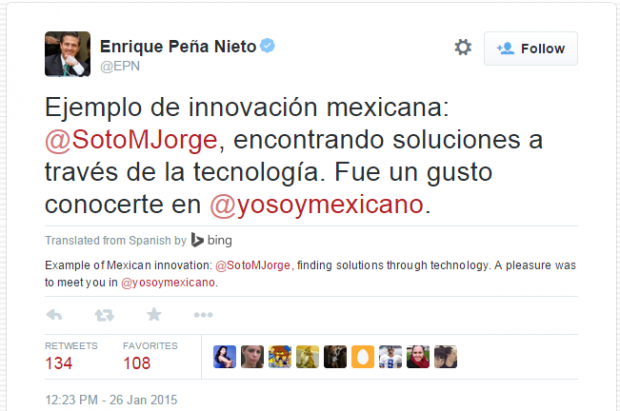 Twitter has followed Facebook in providing users with a translate function thanks to Bing. Unfortunately this new feature isn't quite as easy as seen on it's big blue brother - in Facebook all you have to do is click a little grey text link that automatically translates and displays the English version directly in front of your eyes. However with Twitter, it's a little harder of a task. A small globe will appear in non-English Tweets at the top right, once clicked it will take you to the 'details' tweet page, then once clicked again you'll be displayed with the English translation.
As you can see in the image above, we've been informed by the president of Mexico that he went to a cool meeting, or something. Although not as perfect as a real person, this translation tool is now available on web, iOS and Android platforms. However you must be logged in to access it, as we just found out.
Related Tags