AMD's 'Dynamic Frame Rate Control' has "mind blowing" power savings
AMD working on a truly next-gen feature dubbed 'Dynamic Frame Rate Control', limits your frame rate and saves on your power bills.

Published Wed, Dec 17 2014 10:09 PM CST
|
Updated Tue, Nov 3 2020 12:11 PM CST
According to "AMD_Chris" on various forums, AMD is working on an impressive new feature dubbed "Dynamic Frame Rate Control". DFRC would allow gamers to put a lock on the total frame rate their video card can render, which can result in a huge amount of power savings.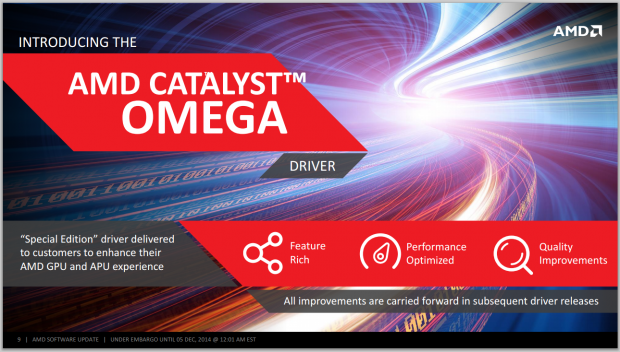 The feature would most likely see AMD variably adjusting the clock speeds of the cards in order to hit the desired frame rate, such as 60FPS. It might sound like V-Sync, but it's nothing like it as DFRC stops your GPU from cranking things up internally to render 100FPS, when you're only receiving as much as your monitor can put out, which is 60Hz, or 60FPS most of the time.
DFRC will underclock your GPU once you hit 60FPS (or whatever frame rate you choose), allowing the card to not pull as much power from the wall. AMD_Chris says that "the power savings were mind blowing" and we would agree, if your card is rendering 120FPS+ in a more basic game and you've got DFRC set to 60FPS, the power savings would be fairly large. We can't wait to test this new feature, that's for sure - what about you?
Related Tags