Activision hates glitch videos of the new COD, issues takedowns
General or game-breaking glitch video online about Call of Duty: Advanced Warfare? Activision is coming for you.

Published Sat, Nov 22 2014 7:14 PM CST
|
Updated Tue, Nov 3 2020 12:13 PM CST
Call of Duty: Advanced Warfare is now out, with the franchise itself generating over $10 billion in sales for Activision, but the studio is now going after people who are uploading glitch videos and game-breaking issues onto video-sharing sites like Machinima and YouTube.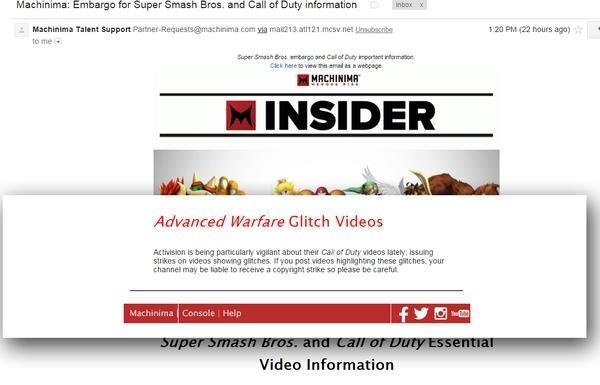 Activision is flagging the videos for possible copyright if they show off glitches in the new first-person shooter, with Machinima saying Activision is very trigger happy with takedowns right now. YouTubers and other video-sharing users aren't happy, even if Activision claims they're only going after glitch videos that highlight cheats and exploits in their powerhouse title.
Activision explains: "We're excited that so many fans are having fun playing the game and posting videos of their gameplay. We love watching the videos ourselves. Occasionally, some folks post videos that promote cheating and unfair exploits. As always, we keep an eye out for these videos-our level of video claims hasn't changed. We are appreciative of the community's support in helping to ensure that everyone has the best playing experience possible".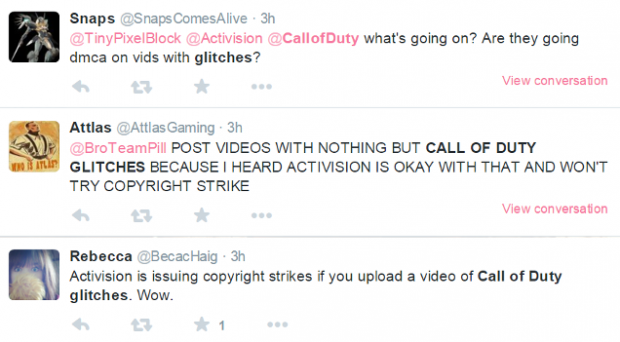 Machinima on the other hand, has the following to say: "Recently Machinima notified it's network partners that posting content about Call of Duty videos may receive a strike if flagged by Activision. Machinima was prompted to take this action in order to inform its network partners so that they would remain in good standing on YouTube. When a channel receives a certain number of strikes it is possible that they may be blocked as a YouTube partner. Machinima's actions are to protect not only its network partners, but its publisher partners as well".
Related Tags