XOO Belt, a belt that can charge your smartphone hits Indiegogo
Ever wanted an internal 2100mAh battery in your belt? The XOO Belt is the one for you, currently on Indiegogo.

Published Wed, Nov 19 2014 10:26 PM CST
|
Updated Tue, Nov 3 2020 12:13 PM CST
Nifty has taken to Indiegogo to fund its latest product, the XOO Belt. What is the XOO Belt? It's an actual belt, with a 2100mAh internal lithium ion battery that features either a Lightning connector, or micro USB connector to charge your smartphone.
Your smartphone can be sitting in your pocket while it charges it up, which is a really nice feature. The battery technology that the UK-based company used it actually a flexible battery, placed inside of the belt itself. Nifty explains: "We've hidden six overlapping layers of cutting-edge flexible battery within each belt, giving a base power of 1,300 mAh of charge. Add this to the 400 mAh in each buckle-for a total of 2,100mAh-and you've enough to fully charge an iPhone 6 with some left over".
Nifty is hoping to secure over $50,000 to get the XOO Belt off the ground, and onto your hips, and at the time of writing they had $30,534 of their $50,000 goal, with 29 days left to go. This means that the XOO Belt will receive its funding without a problem, but the two early-bird products are sold out. 'The early-bird belt' had 100 units available, selling them all at $99 each, while 'The early-ish bird belt' is also sold out, at $125 each. The next level is 'the belt belt' which sells for $155.
Nifty hopes to start shipping its XOO Belt's to backers in July 2015.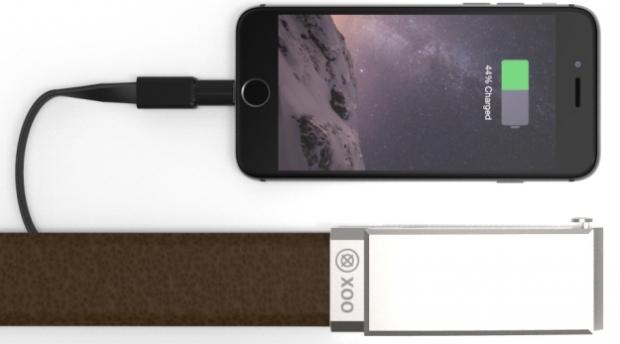 Related Tags