Computex 2014 - While being spoken about a little; the upcoming X99 platform continues to be quiet around the show with few companies showing it off. Over at the MSI booth, though, we got a chance to take a look one of their upcoming boards based on the chipset. The blue and black color scheme is fairly common and we'll indeed see it fall under the GD naming scheme.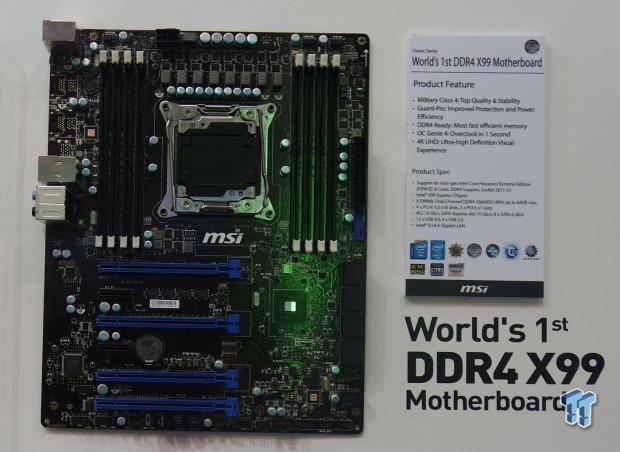 Taking a look at the specification sheet next to the board you can see a number of the main features including support for HSW-E or Haswell-E 8-Core Extreme Edition processors utilizing the 2011 socket design. 8 DIMM slots give us support for up to 64GB of DDR4 at speeds going too 2666MHz DDR via overclocking.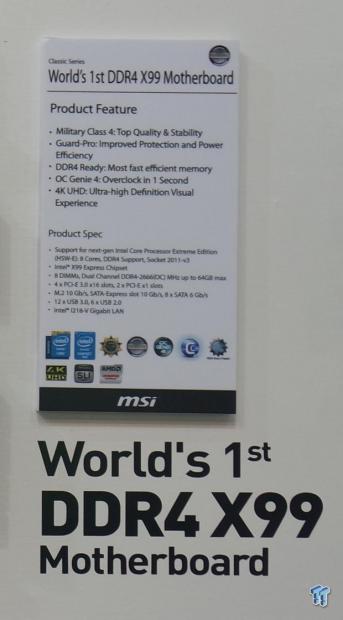 You can also see that we've got four PCIe x16 slots, two PCIe x4 slots, M.2, SATA Express and SATA III slots along with 12 USB 3.0 ports and Gigabit networking via the I218-V chip. As for MSI specific features you can see Military Class 4 and OC Genie 4 is being offered on the model.