This morning Crucial Memory announced that it has begun shipping samples of its new DDR4 modules to its partners through its new Technology Enablement Program. This program is aimed at channel partners who are actively developing and evaluating DDR4 platforms. Crucial says that this mornings announcement is the result of Micron's recent ramp-up in DDR4 module production.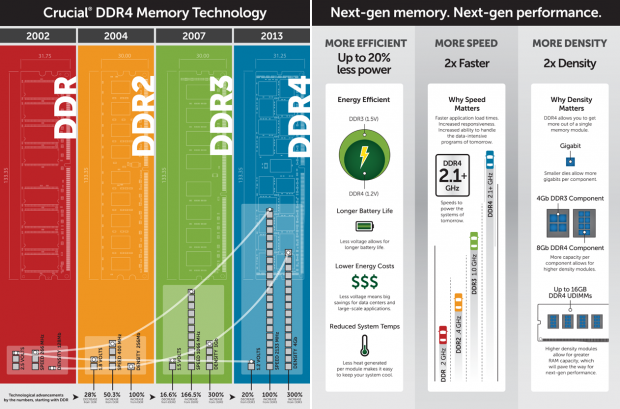 "Memory is one of the biggest limitations when it comes to enterprise server environments. Many memory-dependent server applications are crucial to the day-to-day operations of a business, but they require higher densities of memory and increased performance," said Michael Moreland, worldwide product marketing manager, Crucial. "Crucial DDR4 memory enables servers to perform faster and run more efficiently than ever before, reducing power and cooling expenses along the way - essential for meeting the ever-increasing workload demands of data centers."
Designed to enable next generation enterprise environments, Crucial DDR4 server memory delivers data rates that start at 2133 MT/s (up to twice as fast as DDR3 when it was introduced) and is expected to get even faster as the technology matures. What's more, when used with Intel Xeon processor E5-2600 v3 product family-based systems, Crucial DDR4 server memory doubles memory bandwidth from 8.5 GB/s to 17 GB/s. Additionally, Crucial DDR4 memory uses up to 20 percent less voltage than DDR3 technology, operating at 1.2V compared to 1.5V for standard DDR3 memory, and delivers up to a 40 percent reduction in power usage.