Want beer delivered by a drone? Move to Minnesota
Lakemaid, a Minnesota-based brewing company, has delivered its first beer by drone.

Published Mon, Mar 17 2014 4:28 AM CDT
|
Updated Tue, Nov 3 2020 12:18 PM CST
During the winter months when it gets cold, it gets much harder to get to the shops and buy your beer... so what step do you take next? You order your beer to be delivered by an unmanned aerial drone, that's what.
Lakemaid, a Minnesota-based brewing company, has done just that - after it saw 60 Minutes' bit on Amazon's same-day delivery system that uses drones. The owners of Lakemaid Brewing Company developed its own unmanned aerial delivery vehicle, which just delivered Lakemaid's popular winter lager to an ice fishing shack near Lake Millie Lacs.
A drone had a 12-pack of Lakemaid's popular Winter Lager strapped to it, where it took off to its delivery point. The video above, was met with divided response, with beer fans wanting to know when their local brewers would adopt the same technology, but was also met with criticism as drones are often used for surveillance by the military.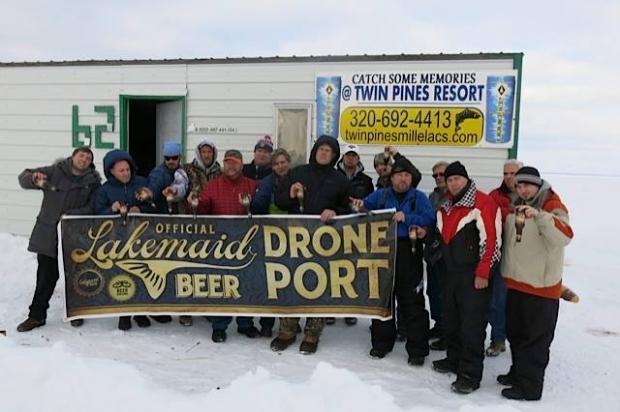 The word "drone" sees images in peoples' heads of the government and its various departments using the unmanned aerial vehicles to spy all over the world. Drones are also used in combat situations, where they have killed countless people - including the innocent. The FAA hasn't ruled the use of delivery drones illegal, but it does have strict restrictions on the use of the drones for the purpose of delivery.
This includes drones behind prohibited from flying over populated areas, and the drones are not allowed to fly over 400 feet high. The devices themselves must weigh less than 55 pounds, and can't be used for commercial purposes, which leaves the use of the drones for recreational purposes only. This means that Lakemade was in violations of these restrictions, and has been served with a cease and desist order from the FAA, citing violations of these restrictions.
Related Tags