Final Audition Week for The Voice: Favorites for the Big Win
NBC's hit television series The Voice wraps up its final audition week for season six. Who has what it takes to win?
Published Tue, Mar 11 2014 8:54 PM CDT
|
Updated Tue, Nov 3 2020 12:18 PM CST
As the auditions come to a close on NBC's hit singing competition The Voice, the internet is a buzz with its favorites for the big win. While Adam Lavigne, Blake Shelton, Shakira, and Usher were battling it out to see who gets who, fans are weighing in on their favorites for the overall win. So who's looking hot for the win? Based on chair spins and internet chatter, these are the likely winners: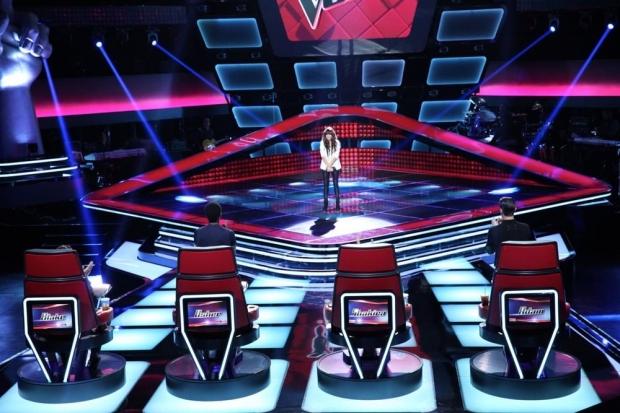 Night 1: Christina Grimmie "Wrecking Ball" (Team Adam)
Night 2: Delvin Choice: "A Song for You" (Team Adam)
Night 3: Sisaundra Lewis: "Ain't No Way" (Team Blake)
Night 4: Emily B.: "Wicked Game" (Team Shakira)
Night 5: Kat Perkins: "Gold Dust Woman" (Team Adam)
On the first night of auditions, 19 year old YouTube sensation Christina Grimmie earned four chair spins with her impressive chops and star appeal. Grimmie took on Miley Cyrus' hit "Wrecking Ball," successfully making it her own, and putting Miley to shame. Much to the dismay of the rest of the judges, Grimmie put her faith in Team Adam.
On the second night of auditions, Delvin Choice auditioned for the second straight season after failing to make a team last year. This time around Delvin earned four chair spins with his soulful rendition of Donny Hathaway's "A Song for You," and he ultimately went with Team Adam.
On the third night of auditions, Sisaundra Lewis, a former collaborator with Celine Dion, earned herself four chair spins with a powerful rendition of Aretha Franklin's hit song "Ain't No Way." Much to the surprise of the judges and the audience, Lewis chose to go with Team Blake.
On the fourth night of auditions, Emily B., a Von Hippel-Lindau disease survivor, wowed everyone with an amazing performance of Chris Isaak's "Wicked Game," and earned herself a pick of the judges. To Blake Shelton's surprise, Emily B. went home with Team Shakira.
Tonight, former rock star and full-time nanny Kat Perkins blew everyone away with a powerful performance of Fleetwood Mac's "Gold Dust Woman." While Kat Perkins only earned three chair spins, her overall charisma and unique voice appears to have The Voice fans swooning; Perkins settled down with Team Adam.
Now that auditions are closed and The Voice is moving into head to head competition, who do you think has what it takes to win? Let us know in the comment section below.
Related Tags