Sicilian Space Program sends a pastry into space
Three young Sicilians work tirelessly to send a cannolo siciliano into space.
Published Tue, Mar 11 2014 9:46 PM CDT
|
Updated Tue, Nov 3 2020 12:18 PM CST
Earlier this month when most of the world was focused on the crisis in the Ukraine and the viral selfie from the Academy Awards, a group of young Sicilians that refer to themselves as the "Sicilian Space Program" began a lighthearted project to launch a cannolo siciliano into the stratosphere. Of course, launching a delicious cream filled pastry into the stratosphere on a low budget with no real planning would undoubtedly result in a light rain of cream, and failed aspirations, so the team worked tirelessly to bring their visions to reality. The result was a very well thought out design, and a delicious space traveling pastry -well sort of.
Getting a real edible cannolo into the stratosphere on a helium balloon without crushing it into an unrecognizable pile of mush or losing it all together isn't exactly a realistic aspiration, but that didn't stop Paolo Capasso, Antonella Barbera, and Fabio Leone from seeing their mission through. Instead of using a real pastry, the three Sicilian dreamers did the next best thing: they created a very realistic looking polymer replica cannolo out of Fimo.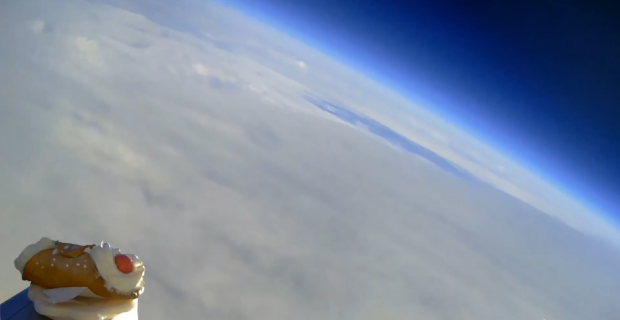 The Fimo cannolo was then fitted to a box made from lightweight wood, plastic, foam, and plenty of duct tape. The box itself was fitted with cameras for two different viewing angles, a flashing signal system, a device to record temperature and altitude, parachute, a GPS device for retrieval, and of course, a helium weather balloon. Aside from the cannolo, they also decided to send a few cigarettes into space, which they celebrated with after successfully launching the balloon -and the cannolo -into the stratosphere, and retrieving it from the pasture on the Sicilian countryside.
Why all of the fuss to send a mock-cannolo into space? The young Sicilians behind the Sicilian Space Program explained: "It's a gift to the Sicilians and a way to make them smile; a performance, an ironic-scientific experiment in order to reevaluate, for a moment, a land renowned for too many negative bests: Sicily."
Related Tags