Tonight will be one of the last nights that you will be able to catch a trio of heavenly bodies hanging out in the night sky in the same neighborhood. This evening's sky watchers in the northern hemisphere will be treated to Saturn, Venus, and the Crescent Moon all within a few degrees of each other.
Tonight around 45 minutes after sunset, you will be able to look toward the southwestern sky and see the waxing crescent moon. To the lower right, you will see a very bright star which is actually the planet Venus. Above Venus, you will see another brightly lit star that will actually be the planet Saturn. The distance between the moon and Saturn will be roughly 5 degrees, which is equal to about half your fist or 3 fingers held at arm's length.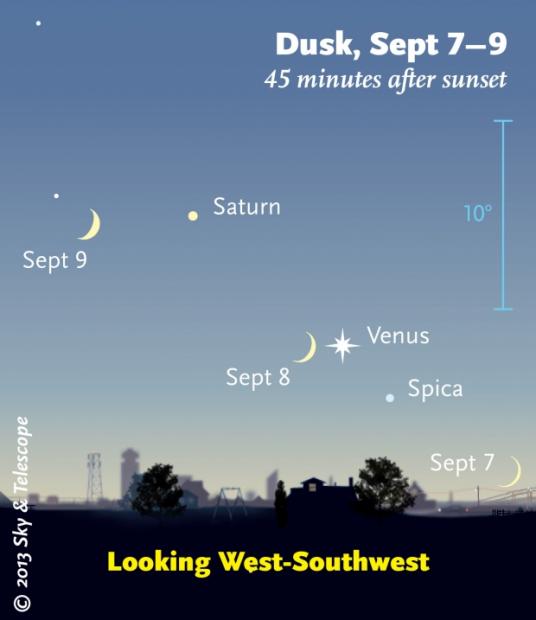 This will also be one of the last spectacular shows Saturn provides us for the year, because in just a few weeks, it will have dipped below the horizon and become visible to those in the southern hemisphere. For those of you with medium power binoculars or a telescope of at least 30-power, you would be able to view Saturn's rings tonight, even with it so close to the moon. I plan on taking out my telescope and imaging gear and getting a couple nice still shots of the trio. If you get any good shots, post them up in the comments and I will share them on our TweakTown Facebook Page.
Images are courtesy of Sky & Telescope and Samuel J. Hartman.