Yahoo launches username wish list as it begins resetting inactive usernames
Yahoo begins deleting accounts that have been inactive for more than 12 months. Opens new user name wishlist to help you land that user name you have always wanted.
Published Tue, Jul 16 2013 1:19 AM CDT
|
Updated Tue, Nov 3 2020 12:22 PM CST
Last month, I reported that Yahoo would begin resetting inactive user accounts today, July 15. As expected, the company has started following through with this plan. This morning, Yahoo announced that it has launched its username wish list notification page (Source #2) where users can go and list up to five usernames they have always wanted associated with their Yahoo account. If and when these names become available, and after the reset process is complete, Yahoo will notify you of which names you were granted.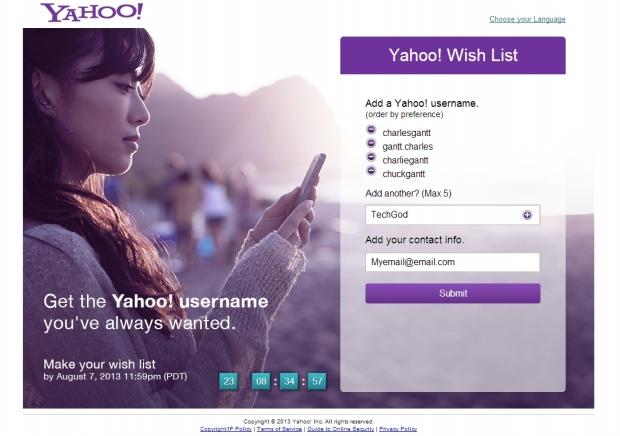 Some of you may be wondering how Yahoo plans on determining which accounts get deleted and which accounts stay. The answer is quite simple: if your Yahoo account has been inactive for at least twelve months, your name, account, and all emails will be deleted. More than likely this has already taken place, but reports say that the process could take a few weeks.
Yahoo says that those first in line for a username will be emailed a link which allows them to claim them sometime in mid-August 2013. After that, Yahoo will allow you to add usernames to a watchlist so you the first to know when they become available. This leads us to believe that the inactive account deletion process will be an ongoing thing, and accounts will be deleted as they pass the 12 months of inactivity milestone.
Related Tags